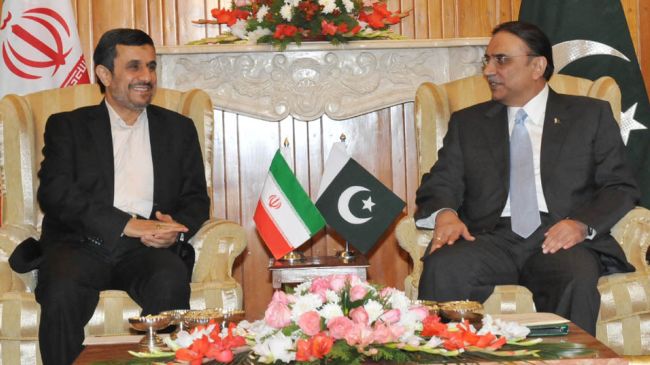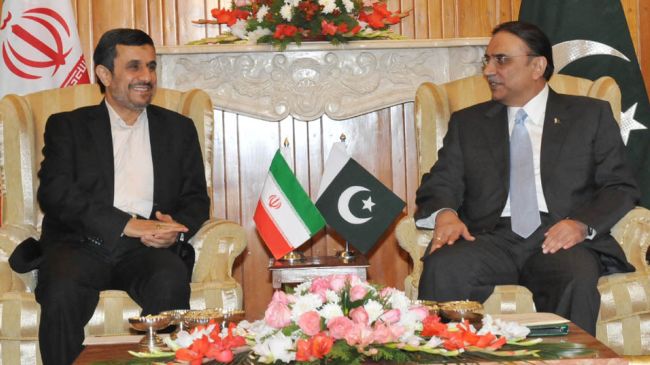 Iranian President Mahmoud Ahmadinejad and his Pakistani counterpart Asif Ali Zardari have called on regional nations to remain vigilant in the face of Western conspiracies.
Ahmadinejad arrived in the Pakistani capital Islamabad on Thursday to take part in a tripartite summit with Zardari and Afghan President Hamid Karzai on regional cooperation and developments.
During the private negotiations, Iranian and Pakistani presidents discussed the plots arrogant powers are hatching to create divisions among the Muslim countries in order to justify their presence in the region.
Ahmadinejad and Zardari also cautioned the regional allies of hegemonic powers, which are not loyal friends and will turn on them once their initial objectives are fulfilled.
Stressing the necessity of maintaining unity among Islamic and independent nations, the two leaders stated that the only solution to regional problems is cooperation between regional countries.
In his meeting with Prime Minister Yousuf Raza Gilani in Islamabad, the Iranian president and Pakistani PM agreed to speed-up the process of bilateral energy projects including electricity and gas.
Ahmadinejad said that Iran is ready to enhance trade with Pakistan to as high as 10 billion dollars in the coming months.
The Iranian president is scheduled to attend a two-day tripartite summit, which will open on Friday with the participation of his Afghan and Pakistani counterparts.