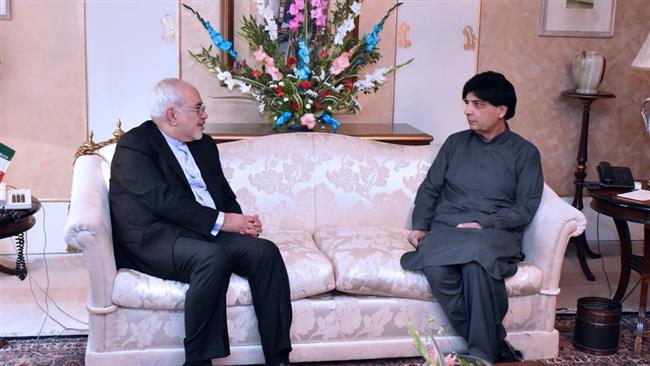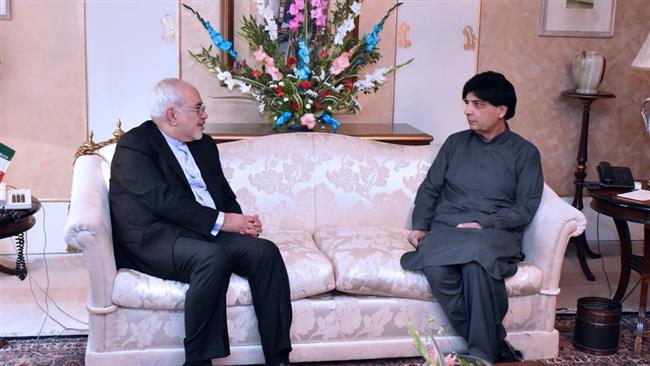 Iran and Pakistan have addressed the issue of security on the common border after terrorists massacred 10 Iranian border guards in an attack launched from the Pakistani side.
The guards were killed and two others injured in an ambush near the town of Mirjaveh in the southeastern Iranian province of Sistan-and-Baluchestan last week.
The so-called Jaish ul-Adl terrorist group claimed responsibility for the attack in a statement. The assailants escaped into Pakistani territory immediately after the attack.
On Wednesday, Iran's Foreign Minister Mohammad Javad Zarif traveled to Pakistan at the head of a high-ranking political, military, law enforcement and security delegation to address the tragedy and hold talks with senior Pakistani officials.
Upon arrival, he met with Pakistan's Interior Minister Chaudhry Nisar Ali Khan. The Iranian senior diplomat laid emphasis at the meeting on the need for the resolution of border security loopholes, fighting terrorism, and punishing terror outfits, especially the perpetrators of the bloodletting.
Khan condoled with the Iranian nation and government over the loss, saying Islamabad was prepared to remove the standing obstacles at political and military levels, and also through contacting local officials.
The minister said Pakistan attaches significance to ties with neighboring Iran, adding, "We want to communicate this message to the world that Iran and Pakistan will always stand by each other's side and resolve problems through mutual cooperation."
Zarif is also slated to meet Pakistani Prime Minister Nawaz Sharif, and Qamar Javed Bajwa, chief of the country's Army Staff.