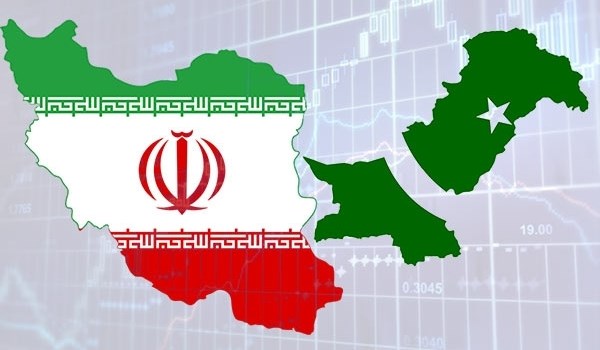 Iranian Foreign Minister Mohammad Javad Zarif and Pakistani Chief of Army Staff General Qamar Javed Bajwa, in a meeting on Friday, agreed to further develop security cooperation between the two countries.
Iranian Foreign Minister Mohammad Javad Zarif and General Bajwa, during the today meeting in Rawalpindi, discussed a range of issues including regional developments and ways to expand bilateral ties in security fields.
Zarif's first Friday meeting in Pakistan was with Foreign Minister Shah Mehmood Qureshi where the two sides expressed satisfaction over implementation on the decisions made during Prime Minister Imran Khan's recent visit to Iran, and agreed to continue cooperation on bilateral matters.
During the today meeting between the two sides' diplomatic delegations, Zarif said that Iran gives value to Pakistan's efforts for establishing peace in the region, according to the Pakistani media.
Qureshi, for his part in the meeting, said that Pakistan will continue its reconciliatory efforts for ensuring peace and stability and reducing tensions in the region.
Pakistan's top diplomat stressed that tension in the region is in no one's interest.
He said Pakistan wants resolution of all unresolved issues through diplomatic engagement, adding that all the stakeholders need to demonstrate patience and tolerance.
The top Iranian diplomat arrived in Islamabad on Thursday night to meet with high-ranking Pakistani officials. The meeting with Pakistani foreign minister was the first leg of planned meetings with high-ranking Pakistani official on the two-day trip.
This is the third visit of Zarif to Pakistan after Imran Khan won the 2018 elections.
Zarif's trip is taking place in continuation of his recent tour to several Asian countries.
upon his arrival in Islamabad on Thursday, Zarif said that he was putting forward a "proposal" during his trip to Islamabad for connecting Pakistan's Gwadar port to its "complementary" port Chabahar in Southeastern Iran.
"We believe that Chabahar and Gwadar can complement each other," the Iranian diplomatic chief added.
"We can connect Chabahar and Gwadar, and then through that, connect Gwadar to our entire railroad system, from Iran to the North Corridor, through Turkmenistan and Kazakhstan, and also through Azerbaijan, Russia, and through Turkey," he noted.
"I've come here with a proposal for the government of Pakistan for connection between Chabahar and Gwadar.
Pakistan's arch-rival India is trying to develop the port of Chabahar as a way to gain access to the markets of central Asia as well as Afghanistan by bypassing Pakistan. The port is about 72 km from its Pakistani counterpart Gwadar, which is being developed by China.
The strategic Iranian port city created a unique opportunity for India to send its goods to landlocked Afghanistan through a safe new route. It would to the same effect enable Afghan merchants to export their commodities – mainly fruits and vegetables as well as nuts and minerals – to global markets through Chabahar.
Considering the strategic importance of the Iranian port for Kabul, the US government was forced in November to approve a sanctions exemption for Chabahar in a bid to economically stabilize Afghanistan.
India hopes to utilize Iran's transit potentials to embolden its connectivity footprints, with Chabahar being the stepping stone to those ambitions.
Located on the confluence of the Indian Ocean and the Sea of Oman in southeastern Iran, Chabahar is India's first foreign port project. Once completed, the project would enable India to send its goods Afghanistan, Central Asia and beyond.