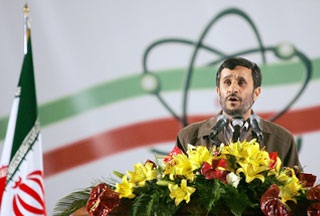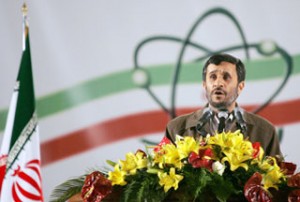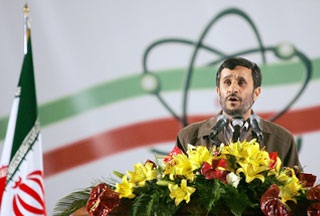 President Mahmoud Ahmadinejad says that Iran has finalized sites for five of the 10 new nuclear enrichment plants it seeks to build to expand its nuclear program.
The president, quoted by the Iranian Labour News Agency (ILNA), said on Wednesday that five other sites are being studied for the remaining plants.
Iran, a signatory to the nuclear Non-Proliferation Treaty (NPT) and a member of the International Atomic Energy Agency (IAEA), is running a nuclear program which it says is aimed at the civilian applications of the technology.
The country's first nuclear power plant in Bushehr is going through its final preparations. Tehran plans to expand its nuclear program to meet the growing electricity demand in the country.
The West, however, accuses the country of seeking to develop nuclear weapons. The IAEA, which is continuously monitoring Iran's activities, says there are no evidence to prove West's allegations. It, however, has asked the country to increase its cooperation to remove remaining ambiguities.
Last month, twenty five members of the 35-member Board of Governors of the IAEA condemned Iran for starting the construction of its second enrichment plant in Fordo. Ahmadinejad says the decision to build 10 new plants is not a reaction to the move.
"We had tasked Iran's atomic agency to locate several sites for the new plants months ago," the president said.
The clarification came after Head of Iran's Atomic Energy Organization (AEO) Ali Akbar Salehi had earlier linked plans for the construction of ten new nuclear sites to the resolution adopted by the IAEA Board of Governors on November 27.
"The West adopted an attitude toward Iran which made the Iranian government to pass the ratification on construction of ten sites similar to the Natanz enrichment facility," Salehi had earlier said.
Ahmadinejad stressed that Iran does not "welcome arguments and harsh words" and will not tolerate "illogical interactions" regarding its nuclear program.
Iran seeks nuclear fuel for a research reactor in Tehran that produces isotopes for medical use. The IAEA, however, has failed to provide the country with a deal that would guarantee Tehran receives the supply.