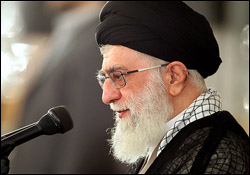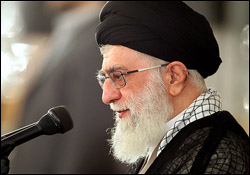 Supreme Leader of the Islamic Ummah and Oppressed People Ayatollah Seyyed Ali Khamenei has said that the world is in the midst of a transition to a new political, economic, and social order and highlighted the role the Iranian nation is playing during the transition period.
The Leader made the remarks during a meeting with a number of professors, academics, and researchers in Tehran late on Sunday.
Ayatollah Khamenei enumerated the signs indicating that a profound change is taking place in the world and said that the Islamic Awakening occurring in the region is one of the signs of this major change.
"A sense of identity and an awakening based on Islam among various Muslim nations is an unprecedented sign of a profound change in the structure and geometry of the future world," he stated.
The failure of the efforts of the West, led by the United States, to gain control over the West Asia region, which became evident after the U.S. defeats in Iraq and Afghanistan, is another indication of a major change in the world, he noted.
The Leader also cited the current situation in Europe, the uncertain future of powerful European countries, and the decline in the status of the United States in the world as additional evidence that a major change is occurring.
He went on to say that the Iranian people, and especially the country's intellectuals and officials, have a heavy responsibility and should play important roles during this period of transition.
Ayatollah Khamenei also said that the awakening inspired by the Islamic Revolution and the stability and strength of the Islamic system, which are founded on belief, faith, and wisdom, are factors that have raised the status of Iran in current developments in the world.
He added, "At this critical juncture in history, the country's intellectuals can provide decisive assistance in elevating the status of Iran in the new world structure through fulfilling their highly important obligations."