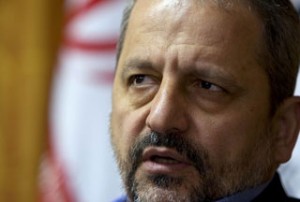 Iran's police Chief Esmail Ahmadi-Moqaddam has vowed to deal strongly with rioters who take part in illegal rallies in the country.
"Time of patience with rioters is ended. Police will deal strongly with every one who attends protests in the future," Fars News Agency quoted Ahmadi-Moqaddam as speaking to reporters.
Police have not been tough with protests before but protestors took advantage of such an attitude, he added.
The remarks come as the Iranian capital on Sunday was the scene of anti-government protests on the anniversary of the Shia Muslim Ashura religious event, during which people commemorated the 7th century martyrdom of Prophet Muhammad's (PBUH) grandson, Imam Hussein (PBUH).
Police used tear gas to disperse the protesters who used the religious ceremony to chant slogans against the government.
Seven people were confirmed dead during the Sunday unrest.
Police say the force was not involved in the killings, adding that the incidents are under investigation.
Ahmadi-Moqaddam said that protestors should be separated from rioters "because rioters attack police and damage public properties."
"On Ashura day, we arrested a number of rioters after they attacked police forces…We will not release them until full investigations are conducted," he said.