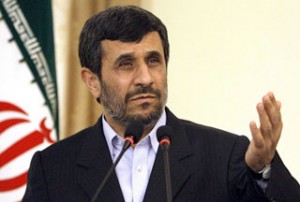 The Iranian president will visit UN Security Council member Uganda this week to discuss Iran's nuclear issue with his Ugandan counterpart.
Mahmoud Ahmadinejad is scheduled to arrive in Kampala on Friday for a two-day visit, James Mugume, the permanent secretary of Uganda's foreign ministry, said on Tuesday.
Iranian Foreign Minister Manouchehr Mottaki said on Sunday that Tehran planned to hold talks with all members of the UN Security Council over a nuclear fuel swap deal to provide for Iran's research reactors that produce medical radioisotopes.
Uganda currently holds one of the rotating UNSC seats.
"Obviously as a member of the Security Council we are going to discuss the issue of nuclear energy," AFP quoted Mugume as saying.
According to a US-proposed deal, backed by the UN nuclear watchdog, Iran had to send most of its low-enriched uranium abroad for further processing and conversion into fuel rods for the Tehran research reactor.
Iran agreed to the IAEA-backed proposal but said it needed guarantees that the other side would deliver the fuel in a timely manner — a demand the West has so far ignored.
Mugume added that Ahmadinejad and Ugandan President Yoweri Museveni will also hold talks on the development of Uganda's oil industry.