Iran
Iran president starts five-day Central Asia tour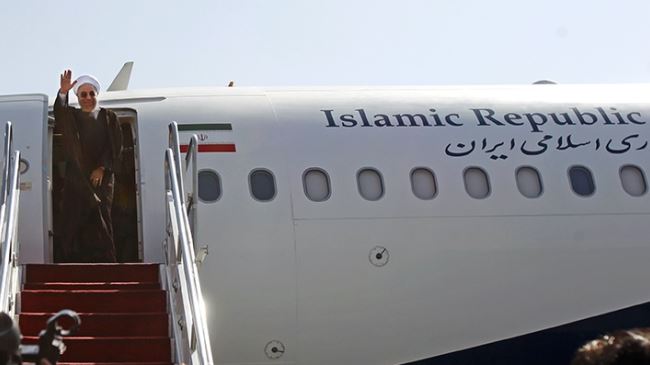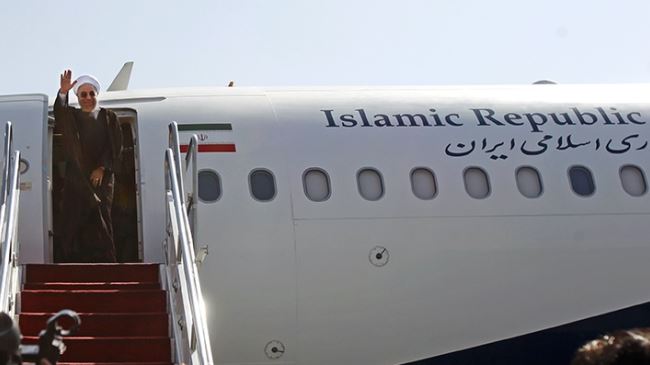 Iran's President Hassan Rouhani has arrived in the Kazakh capital, Astana, on the first leg of his five-day tour of the Central Asian states of Kazakhstan and Tajikistan.
Leading a high-ranking economic and diplomatic delegation, Rouhani arrived in Astana Monday afternoon for a two-day visit.
The Iranian president will then travel to Tajikistan for a three-day visit, the last day of which is dedicated to participation at the summit of the Shanghai Cooperation Organization (SCO).
The SCO is an intergovernmental organization that was founded in 2001 in Shanghai by the leaders of China, Kazakhstan, Kyrgyzstan, Russia, Tajikistan, and Uzbekistan. Iran along with four other countries are observer states in the organization.
Last year, the SCO summit was held in the Kyrgyz capital city of Bishkek, bringing together heads of both member and observer states.
Before leaving Tehran, Rouhani pointed to Iran's strategic role in connecting Central Asia to high seas and said Iran-Turkmenistan-Kazakhstan railway project is expected to become operational in the current Iranian calendar year, which ends in March 2015.
Rouhani underlined the need for the expansion of Iran-Kazakhstan cooperation in scientific and technological sectors and highlighted the the importance of enhanced Iran-Tajikistan relations as two Persian-speaking nations with ample cultural commonalities.
He also decscribed this year's SCO summit as highly important against the backdrop of the ongoing crises across the Middle East, Ukraine, Iraq, Syria and Palestine.
On the sidelines of the SCO summit, the Iranian president will hold bilateral talks with officials from other countries.