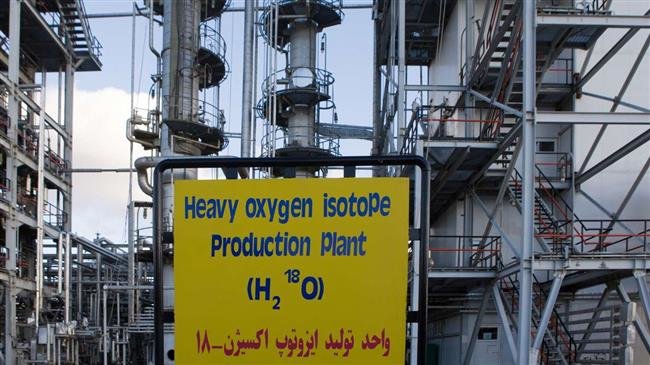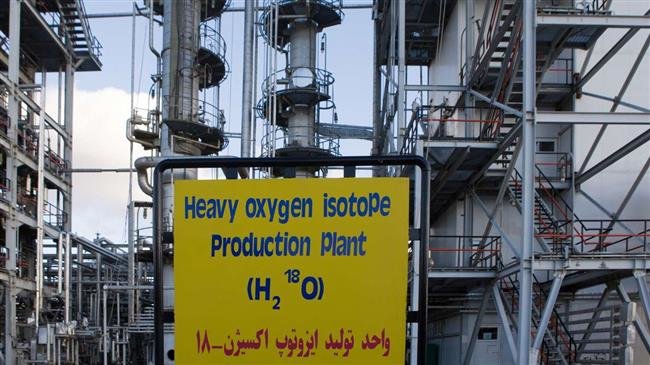 Iranian scientists have managed to produce Oxygen-18, a natural isotope of oxygen, which has its uses in the medical industry, at a west-central nuclear research reactor.
The head of the Atomic Energy Organization of Iran (AEOI), Ali-Akbar Salehi, announced the product during a ceremony in Markazi province on Monday, IRNA reported.
He said the isotope is produced at 97 percent purity, noting that by harnessing the technology at Khandab Research Reactor in the province, the Islamic Republic had broken the international monopoly of its production, which was previously held by only five countries.
Oxygen-18 is used as precursor for medical radioisotope Fluorine-18 production, which is used in PET (positron emission tomography). PET is a type of imaging test that helps reveal how tissues and organs are functioning.
Salehi said the research facility can now produce as much as 60 kilograms of the isotope per year, and could reach a 100-kilo yield.
The development has rendered Iran independent of foreign contribution as far as PET equipment was concerned, Salehi said. Previously, the country had to buy each kilo of the isotope at $30,000, he added.
It only remains for the product to undergo electrolysis, which, the official said, "is an easy process."
The AEOI chief said currently, the research reactor was housing 12 distillation towers, eight of which were producing Oxygen-18, while the rest were being used for making heavy water.
Salehi expressed gratitude towards young Iranian scientists for their intense four-year-long endeavor leading to the production of the isotope, calling the development "a product of national conviction and will."
Citing the Leader of the Islamic Revolution Ayatollah Seyyed Ali Khamenei, he said, "There are no scientific fronts that the Iranian nation cannot conquer," adding, "The Leader's message has now been materialized in all the sectors of the Islamic Iranian society."