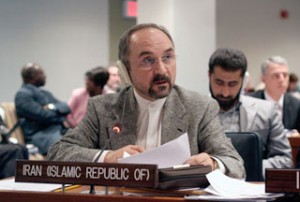 Iran says the future credibility of the 15-member UN Security Council is hinged on a series of sweeping reforms within its structure and course of action.
Iranian Ambassador to the United Nations Mohammad Khazaei challenged the bedrock of the UNSC on Friday, saying that it is in urgent need of serious reform.
Khazaei said the 15-member council had compromised its principles by taking its cue from a select group of countries and as a result reduced its efficiency in dealing with international challenges.
"The UNSC makes most of its decisions by considering the interests of its permanent members and select few," added Khazaei. "This has largely undermined its credibility and highlighted the need for reform more than ever."
"The last time the issue of UNSC reform was discussed in 1963 UNSC member states increase from 9 to 15 and it has since remained as such," he added.
Khazaei further stressed that the Security Council, as one of the principal organs of the United Nations, is obliged to be more transparent in its decision-making.
He went on to question the right to veto at the council, describing it as a blatant example of double standards against developing countries.