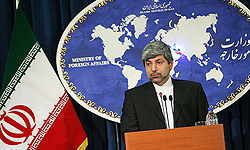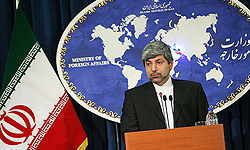 Iranian Foreign Ministry Spokesman Ramin Mehman-Parast cautioned about the objectives of the West in military attack on Libya, and called on the regional states to keep vigilant about plots hatched by hegemonic powers.
response to a question about the West's air and missile attacks on Libya, Mehman-Parast raised doubts about the true objectives of hegemonic powers in occupying other countries, saying, "These powers usually enter the scene under the pretext of supporting people."
"However, they are pursuing their own interests which are based on dominance over other nations, the establishment of military bases and continuation of colonialism in its modern form," Mehman-Parast added.
Mehman-Parast urged regional countries that are faced with "great developments" to remain vigilant and persist on their demands while blocking foreigners from dominating over their territory.
He further reiterated Iran's position in defense of popular demands, and underscored, "The stance of the Islamic Republic of Iran has always been based on support for people of any country and their legitimate demands."
Foreign forces launched airstrikes against Libya after officials of a number of countries meeting in Paris on Saturday ordered a large-scale military intervention into Libya in order to end the assault on oppositions by the country's embattled ruler Muammar Qaddafi's forces.
Representatives of the United States, Britain, France, the United Arab Emirates, and Qatar attended the meeting.
Libyan state media have reported that at least 48 people have been killed in the attacks.