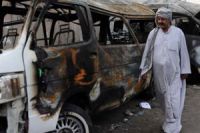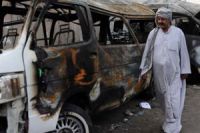 Iran has strongly condemned Tuesday's bomb attack in a Shiite neighborhood of the Iraqi capital, Baghdad, which martyred at least 21 people, including a lawmaker.
According to Press TV, Foreign Ministry Spokeswoman Marzieh Afkham on Wednesday denounced the terrorist attack and offered Iran's condolences to the Iraqi government, nation and parliament.
The Iranian official also underlined the need for serious fight against terrorism in the Middle East.
The deadly bomb attack happened at a checkpoint in Baghdad's Shiite neighborhood of Kadhimiyah. At least 21 people, including Iraqi lawmaker Ahmed al-Khafaji, were martyred in the attack. More than 50 others suffered injuries.
Iraq has been witnessing deadly bombings over the past few days.
On Monday, at least 43 people were martyred in three bomb attacks in mainly Shiite Muslim areas of Baghdad. Many other people were also injured by the three explosions.