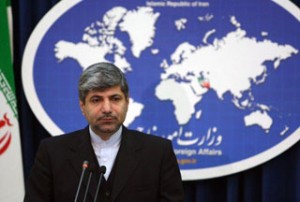 Iran says the Obama administration has been pursuing his predecessor's foreign policy approaches, insisting the US policies have not "changed" whatsoever.
"The Obama administration's policies have not made any changes, compared to that of the Bush administration," said the Iranian Foreign Ministry Spokesman, Ramin Mehman-Parast, in a Monday press briefing in Tehran.
Obama's embrace of Bush's policies is being criticized within the United States; many Americans believe that the Obama administration's approaches are a continuation of the previous government's policies, he said.
"We have been waiting to see the results of the (promised) change, but we have observed nothing except old, wrong US policies," the foreign ministry official maintained.
"The Swiss embassy is in charge of the US Interests Section in Iran and Iran pursues any issues, which Iran thinks the US may have been involved in it, through the Swiss embassy," Mehman-Parast said in respect to the a recent summons of the Swiss ambassador to Tehran over the assassination of Iranian nuclear scientist Masoud Ali-Mohammadi two weeks ago.
The Iranian Foreign Ministry summoned the Swiss ambassador to Tehran to denounce the US government for harboring a Los-Angeles based "Tondar" terrorist group that claimed responsibility for the assassination of the Iranian scientist in mid-January.
"The US administration must answer: Why is such a terrorist group active in that country?" Mehman-Parast queried.
Iran's Foreign Ministry told the Swiss envoy that the country seeks the extradition of the members of Tondar terrorist group.
The Swiss Embassy has been in charge of the US Interests Section in Iran since the victory of the Islamic Revolution in 1979.
The US and Iran have had no diplomatic relations after the 1979 Revolution toppled US-backed monarch Mohammad Reza Pahlavi in the country.