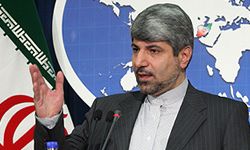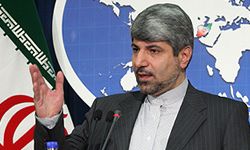 Islamic Republic of Iran lashed out at the US and EU for their "illegal and inhuman" sanctions against Tehran, saying that pressures are targeted at the Iranian people and not the government.
"The US and EU's unilateral sanctions are illegal, irrational and inhuman measures since they are imposed against our nation and under the pretext of (stopping Iran's) peaceful nuclear activities," Iranian Foreign Ministry Spokesman Ramin Mehman-Parast told reporters in Tehran today.
He referred to the recent remarks by The Leader of Ummah and Oppressed People Imam Sayyed Ali Khamenei who had blasted the West for imposing sanctions against Iran under the pretext of the country's nuclear program, and said, "For sure, if one day our nuclear case is closed, these countries will try to find other excuses to pressure our nation."
Mehman-Parast said that the main concern that the western states feel about Iran is its independence, power and sovereignty which prevent the interference of the aliens in the country's internal affairs.
Washington and its European allies accuse Iran of trying to develop nuclear weapons under the cover of a civilian nuclear program, while they have never presented any corroborative evidence to substantiate their allegations. Iran denies the charges and insists that its nuclear program is for peaceful purposes only.
Tehran stresses that the country has always pursued a civilian path to provide power to the growing number of Iranian population, whose fossil fuel would eventually run dry.
Despite the rules enshrined in the Non-Proliferation Treaty (NPT) entitling every member state, including Iran, to the right of uranium enrichment, Tehran is now under four rounds of UN Security Council sanctions and the western embargos for turning down West's calls to give up its right of uranium enrichment.
After the UN Security Council ratified a sanctions resolution against Iran on June 9, 2010, the United States and the European Union imposed further unilateral sanctions against the Islamic Republic over its nuclear program, mostly targeting the country's energy and banking sectors.
Tehran has always dismissed West's pressures and stressed that sanctions and embargos merely consolidate Iranians' national resolve to continue the path of progress.