Iran
Iran Ready to Mediate in Korean Tensions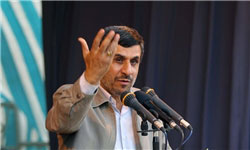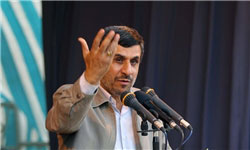 Iranian President Mahmoud Ahmadinejad announced Tehran's readiness to play a mediating role in East Asia to soothe escalating tensions in the region.
"I ask you as a friend to settle the problems wisely and through talks and negotiations as in the past," Ahmadinejad said, addressing East Asian countries, including China, Japan and South and North Koreas, on Wednesday.
"You should be vigilant and Iran is ready to do mediation to help resolve problems through talks and negotiations," he added.
Ahmadinejad warned that enemies of East Asian states have plotted to prevent these countries' further progress through staging a devastating war in the region, and said, "You shouldn't allow the enemies of humanity to destroy you in a bid to improve their own conditions."
Tensions began escalating on the Korean Peninsula after international sanctions were imposed on North Korea in response to a long-range rocket launch in December, which world powers condemned as a ballistic missile test. North Korea responded by carrying out a third nuclear test in February, which was followed by more sanctions.
Pyongyang has threatened pre-emptive nuclear strikes against the US mainland and US military bases in the region.
North Korea has also repeatedly blamed its neighbors, but ultimately the US for the escalating tension, and explained the recent proposal to all foreign embassies to evacuate by "the increasing threat from the United States".
In the meantime, Washington has indeed been increasing its presence around the Korean Peninsula.
The USS Fitzgerald, which is positioned next to North Korea, is capable of shooting down any missiles launched from the country. The ship was initially supposed to return to base in Japan following recent annual joint drills with the South, according to US defense officials.
The advanced radar-evading F-22 Raptors were redeployed from Kadena Air Base in Okinawa to the Osan Air Base, which is the main American base in South Korea. B-2 bombers also flew in the vicinity of the North Korean border.