Iran
Middle East
Syria
Iran reaffirms support for Syria to defeat terrorism, restore security
Iranian Foreign Minister Mohammad Javad Zarif says Tehran will keep supporting Syria in various fields, particularly in the war against terrorism and in the efforts to ensure security and stability across the country.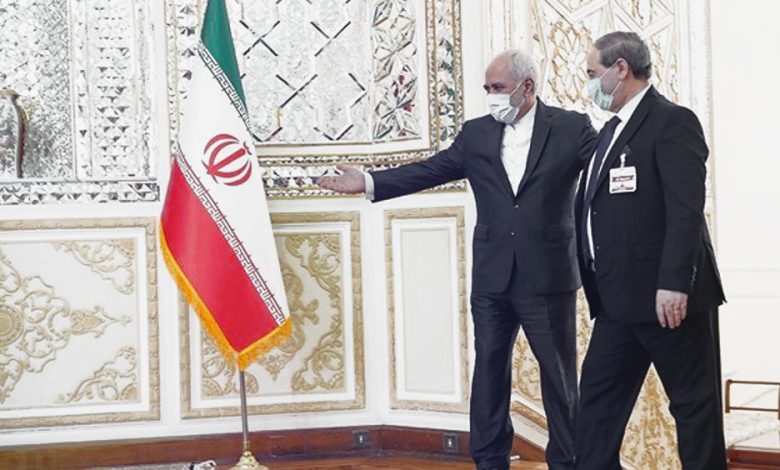 In a phone call with Syrian Foreign Minister Faisal Mekdad, the top Iranian diplomat stressed the importance of making efforts to realize a solution that preserves the interests of the Syrian nation, Syria's official news agency SANA reported on Thursday.
Mekdad expressed appreciation for Iran's support, particularly in the economic arena, to mitigate the impacts of unilateral coercive economic sanctions.
The Iranian and Syrian foreign ministers also discussed ways to boost mutual relations in all fields.
Zarif and Mekdad also exchanged views about the outcome of recent meetings held within the framework of the Astana peace format in the Russian resort city of Sochi and also consultations among various parties to overcome the obstacles put by some countries in the way of restoring stability to Syria.
Since January 2017, Iran, Turkey and Russia, the states that have been serving as the guarantors of an all-Syria ceasefire, have been mediating peace negotiations between representatives of the Syrian government and opposition groups in a series of talks held in the Kazakh capital Astana (now named Nur-Sultan) and other places, including Sochi.
The talks are collectively referred to as the Astana peace process.
The first round of the Astana talks began a month after the three states joined efforts and brought about the countrywide ceasefire in Syria and assumed the role of the guarantors of the truce.
In a statement issued on February 17 at the end of two-day talks in Sochi, Iran, Russia, and Turkey declared the importance of respect for Syria's sovereignty and laid emphasis on the need to fight terrorism in the country until its complete eradication.
Zarif and Mekdad also discussed the activities of Syria's Constitutional Committee and the results of its latest meeting in the Swiss city of Geneva in January.
On the sidelines of the regular meeting of the Constitutional Committee in Geneva in January, Iran, Russia, Turkey held a trilateral meeting, at the end of which they issued a joint statement, reaffirming their readiness to support the committee's work through continued interaction with the Syrian delegates and UN Special Envoy for Syria Geir Pedersen, as the facilitator, to ensure sustainable functioning of the committee.
Syria began to become grappled by foreign-backed violence in 2011. Matters worsened significantly after the Takfiri terrorist group of Daesh took on the country and neighboring Iraq three years later.
Before the guarantors launched their political and intermediary efforts, Iranian military advisory assistance and Russian aerial support helped Syria retake one territory after another from the militant outfits and the Takfiri group.