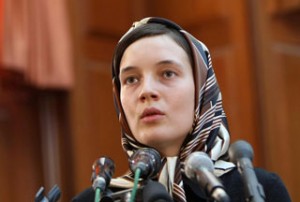 Iranian President Mahmoud Ahmadinejad says the release of a French academic arrested on charges of espionage depends on France's approach and behavior.
President Ahmadinejad said on Friday that Iran was willing to release Clotilde Reiss but that it depended on the "approach and behavior" adopted by French officials.
"Iran is willing to release Clotilde Reiss who has been arrested for taking part in the post-election protests but this depends on the approach and behavior of French officials," Fars News Agency quoted him as saying in an interview with AFP.
Reiss, who is out of jail on bail and is staying at the French Embassy in Tehran, was arrested on charges of aiding a Western plot against the Islamic Republic.
She is also accused of carrying out "a series of offenses, such as illegal residence, participation in illegal protests and intelligence gathering for the French Embassy," according to Iran's Foreign Ministry.
President Ahmadinejad said the issue could be settled if French leaders "correct their behavior" and "show a balanced" reaction.
The President, however, did not give further details on what measures Iran expected France to take as a prerequisite to the release.
"They know what to do. I don't want to go into details. But I hope that the issue will be settled since we do not want to see any problems between Iran and France," he said.