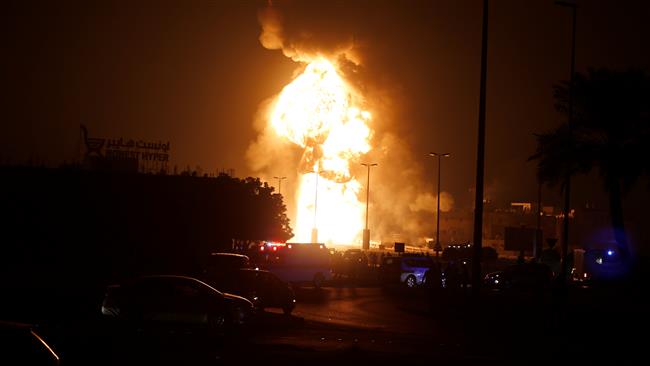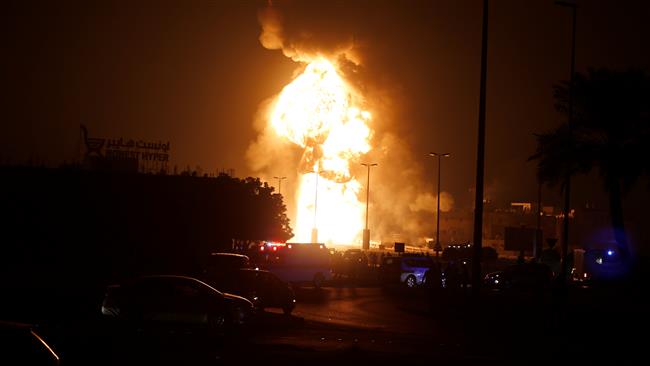 Iran has dismissed a recent Bahraini allegation linking the Islamic Republic to an oil pipeline fire near the capital, Manama.
On Friday night, an explosion at an oil pipeline, belonging to the state-run Bahrain Petroleum Company (Bapco), caused a fire in the vicinity of the village of Buri. The pipeline was running between Bahrain and Saudi Arabia.
No one was injured in the blast and no group claimed responsibility, but Bahrain's Foreign Minister Khalid bin Ahmed Al Khalifah claimed in a post on Twitter that the incident was "a dangerous Iranian escalation."
On Sunday, Iran's Foreign Ministry spokesman Bahram Qassemi vehemently dismissed the accusations as "delusional."
"Apparently, the only thing that Bahraini officials have been taught to utter following any incidents in the island is accusing Iran," Qassemi said.
He reminded Bahraini authorities that "the era of such delusional remarks and lies as well as hype and childish accusations is over."
"We have always insisted and stressed that we consider stability and security in all our neighbors as our own stability and security and remain committed to it," the Iranian official added.
Bahrain, home to the US Navy's 5th Fleet and an under-construction British naval base, has witnessed peaceful anti-regime protests against the systematic abuse and discrimination against the country's Shia population since 2011.
Manama has suppressed the demonstrations using lethal force, killing scores of pro-democracy protesters.
Bahraini authorities have also detained human rights campaigners, broken up major opposition political parties and revoked the nationality of several activists.
From time to time, the ruling Al Khalifah regime would parade detainees and accuse them of having links to Iran.
Iran has categorically rejected the allegations, advising Bahraini officials to end the crackdown and address the root causes of the problems gripping the tiny Arab state.