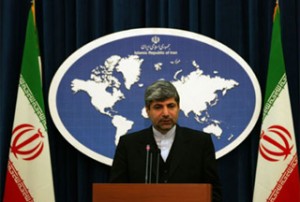 Iranian Foreign Ministry Spokesman Ramin Mehmanparast has dismissed as "illogical" any fresh sanctions against Tehran over its nuclear work.
Speaking to reporters at his weekly press conference on Tuesday, Mehmanparast said that despite mounting pressure, Iran remained resolute to pursue its nuclear work.
"Sanctions and resolutions have not had and will not have an impact on our work," Mehmanparast said, adding that the more Iran is pressured over its nuclear work, the more it will become resolute in pursuing its nuclear activities.
He added that imposing new sanctions against Iran would be "illogical".
"Any action aimed to pile up pressure on Iran over its nuclear work especially outside the domain of the [International Atomic Energy] Agency (IAEA) is political, illogical and illegal," Mehmanparast said.
He said that US and Israel's calls for more sanctions against Iran proved that Tehran's nuclear issue has been politicized.
He also said that Iran has resolved all the ambiguities as confirmed by the UN nuclear watchdog.
The US, which accuses Iran of seeking nuclear weapons, has been lobbying for more UN Security Council (UNSC) sanctions against Tehran.
US-led calls have, however, received a chilly reception mainly from China, one of the five veto-wielding members of the UNSC, which insists that diplomacy can still work to resolve the Iranian nuclear issue.
Iran says any punitive measures against the country are legally baseless as Tehran's peaceful nuclear energy program is being fully monitored by UN nuclear watchdog, IAEA.