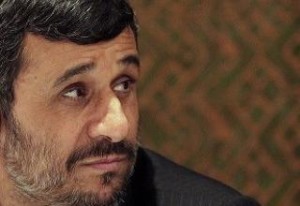 Iranian President Mahmoud Ahmadinejad says countries that possess nuclear weapons cannot pass judgment on Tehran's nuclear program.
"The fact that some nuclear-armed countries seek to stop Iran's peaceful nuclear program violates the NPT and international law. They cannot deprive Iran of its legal rights through threats or pressure," Ahmadinejad told ABC on Wednesday on the sidelines of the Nuclear Non-Proliferation Treaty review conference, which is currently underway in New York.
He said that it is "discriminatory" to allow a country to manufacture nuclear weapons while other nations are denied the right to use nuclear technology meant for peaceful purposes.
The NPT requires all nuclear weapons states to dismantle their nuclear weapons, so everyone is wondering why these weapons have not been eradicated, Ahmadinejad noted.
He went on to say that no country can deprive Iran of its nuclear rights, adding that it is no longer acceptable to use threatening language against countries since the era of threats has come to an end.
Iran was one of the original signatories to the NPT, which allows countries that comply with the treaty to use nuclear technology for peaceful purposes.
The International Atomic Energy Agency is the only international body authorized to verify the peaceful nature of independent countries' nuclear programs.
And as a member of the IAEA, Iran conducts all its nuclear activities under the full supervision of the agency's inspectors.