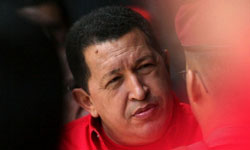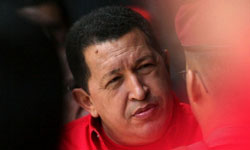 Iran on Sunday released a postage stamp to commemorate late Venezuelan President Hugo Chavez, who died of cancer this week.
The commemorative stamp was unveiled in a ceremony attended by President Mahmoud Ahmadinejad here in Tehran today.
On Friday, President Ahmadinejad was in Caracas along with a delegation of his cabinet officials to attend the funeral ceremony of Late President Chavez .
The Iranian president was accompanied by his top adviser Esfandiar Rahim Mashayee, Iranian Foreign Minister Ali Akbar Salehi, Vice President for Executive Affairs Seyed Hassan Moussavi, Vice President for Parliamentary Affairs Mohammad-Reza Mir-Tajeddini and acting Minister of Cooperatives, Labor and Social Welfare Asadollah Abbasi.
Political figures and leaders from across the globe attended the late Venezuelan president's funeral procession in Caracas on Friday.
The Iranian government declared last Wednesday a day of national mourning on the occasion of the demise of the late Venezuelan President.