Iran
Iran represents a deathblow to US global hegemony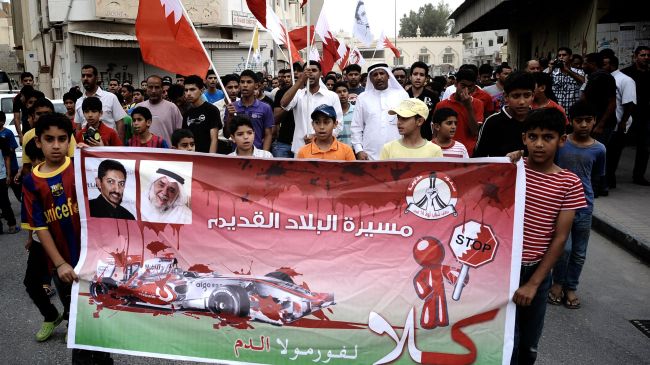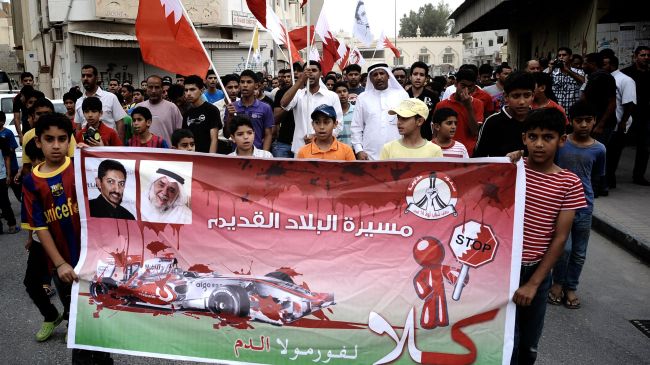 Bahraini regime forces have fired tear gas and sound bombs to disperse demonstrators protesting against the upcoming Formula One Grand Prix near the capital, Manama.
Local sources said Friday that hundreds of anti-regime protesters took to the streets in Khamis village near the capital to voice their outrage at the authorities' decision to keep the Bahrain Grand Prix on the Formula One calendar.
Outraged protesters chanted slogans such as "The people want the fall of the regime," and "Down with Hamad," referring to Bahrain's King Hamad bin Isa Al Khalifa.
According to witnesses, clashes broke out as regime forces attempted to disperse the gathering. The protesters also responded with Molotov cocktails.
On Wednesday, Human Rights Watch said the Al Khalifa regime has arrested 20 opposition activists ahead of the event.
"Bahraini authorities are carrying out home raids and arbitrarily detaining opposition protesters in advance of the Formula 1 Grand Prix weekend," the human rights body said.
Demonstrators in the island nation have been staging protest rallies in solidarity with political prisoners and against the international motor racing event, which is due to be held on April 21.
In 2012, the Grand Prix went ahead in the kingdom despite protests.
Bahrainis have been staging demonstrations since mid-February 2011, demanding political reform and a constitutional monarchy, a demand that later changed to an outright call for the ouster of the ruling Al Khalifa family following its brutal crackdown on popular protests.
The Manama regime has arrested many rights activists, doctors and nurses since the uprising began.
Bahrainis say they will continue holding anti-regime demonstrations until their demand for the establishment of a democratically-elected government and an end to rights violations is met.