Iran
Iran rings in new school year with call for respect, moderation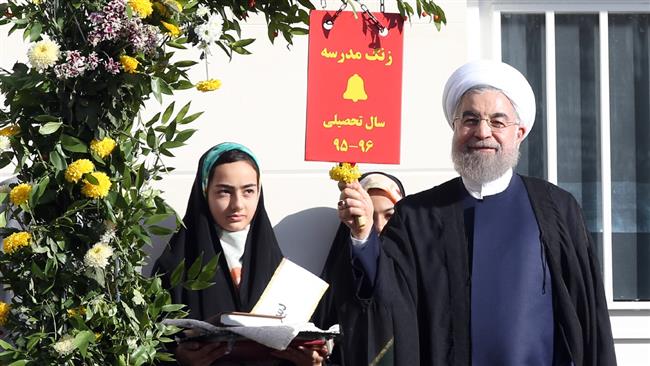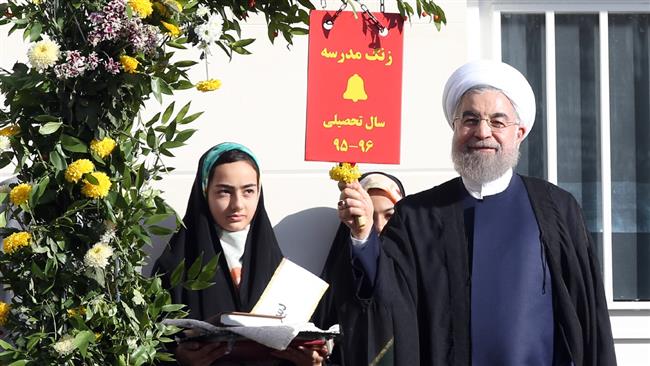 Iran has rung in the new school year, with President Hassan Rouhani calling for moderation, respect and banishment of violence to form the centerpiece of education.  
A total of 107,000 schools and educational centers opened across Iran on Saturday, offering curriculum in a variety of subjects to some 13.5 million students.
Rouhani touched on the ongoing violence in the region, saying that Iranian students start the new year while their peers in some of the neighboring countries are witnessing war and destruction.
"Today, the biggest problem in our region and the world is violence," he told students at a high school in Tehran as he rang in the bell.
"You are starting your classes in a secure environment but in our neighborhood in Iraq, Syria, Yemen and other countries, schools have been destroyed and children have been pulled through the dust and blood and teachers have lost the chance to teach.
"We should focus on the extent to which violence can put the social environment of the youths and the future of countries in jeopardy," he said.
"Violence is not just war and terror. Disrespect for one another and the lack of brotherhood, sisterhood, and friendship ethics are also some forms of violence," the president said.
He added that depriving children of education and forcing them to hard labor, as well as treating children outside the Islamic teachings are other forms of violence.
President Rouhani further called on Iranian educators to teach students moderation, and know that radical behavior would be destructive to the country and its future whereas wisdom and prudence would ensure a bright future.
Elsewhere in his remarks, the president turned to a landmark nuclear agreement between Iran and the six world powers and said the deal had created a favorable environment for business and investment.
Iran and the P5+1 signed the deal, known as Joint Comprehensive Plan of Action (JCPOA), on July 2015. It went into effect on January 16, and resolved a long-running dispute over the Iranian nuclear program.
Under the JCPOA, the Islamic Republic has agreed to roll back certain aspects of its nuclear program and, in return, Iran's partners agreed to terminate all nuclear-related sanctions against Iran.