Iran
Economy
Middle East
Iran rushes to pump more oil amid surging oil prices
As higher oil prices mean more oil pumping, all of the big names in Iran's oil industry have assembled here to multiply the country's oil output amid rising crude prices.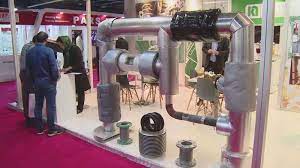 The 26th edition of the International Oil, Gas, Refining and Petrochemical Exhibition has brought together 1,200 Iranian and 44 international firms active in upstream, midstream and downstream oil sectors.
For decades, Iran has relied on drilling bits produced by the US and China to pump its crude, but US oil embargo on Iran has made it almost impossible to import quality bits among other oil exploration and production equipment.
This has forced Iran to try its own know-how to build its needed machinery, including drilling bits. These Iranian-made bits have spared Iran millions of dollars spent every year on importing American bits.
In 2018, Iran was the third largest oil producer in the Organization of Petroleum Exporting Countries. Following the US' unilateral withdrawal from the nuclear deal and the re-imposition of sanctions the same year, Iran's oil output almost halved to less than 2 million barrels per day (bpd), while its exports tumbled to less than one million bpd, down from 2.5 million bpd.
Now the new surge in oil prices and the resulting rise in global demand have given Iran a new comeback to the market despite the ongoing US sanctions.
While soaring crude prices have been a real shot in the arm for oil rich countries, even for sanctions-hit Iran, experts here warn that this could be a fleeting joy, given the ups and downs of the oil industry. Now one of the goals of this event is to boost Iran's downstream sector to shield the economy from the fluctuations in the oil prices.