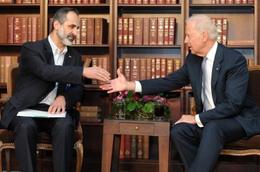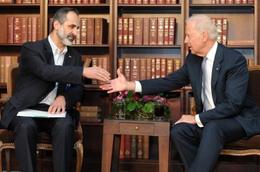 Iranian Foreign Minister Ali Akbar Salehi on Sunday welcomed Syrian opposition leader Ahmed Moaz al-Khatib's readiness to hold talks with the Syrian government as Russia's Foreign Minister Sergei Lavrov held his first direct talks with the coalition's leader.
"It's a good step forward," Salehi said at the Munich Security Conference, where he said he had held a "very good meeting" with Khatib. The talks were the first between the Iranian foreign minister and Khatib, who became Syrian National Coalition leader late last year and who also met US Vice President Joe Biden in Munich on Saturday.
Addressing participants at the conference, where three days of talks wrap up later Sunday, Salehi said he was pleased to have met the Syrian opposition chief and that they had decided to continue contacts.
Khatib reiterated at the start of the conference an earlier surprise announcement that he was ready for dialogue with the Damascus regime — subject to conditions, including the release of 160,000 detainees.
The idea of direct talks has however already been rejected by the Syrian National Council, the main body in the coalition, which opposes any negotiations before Syrian President Bashar al-Assad's departure.
Salehi said that his country was "ready to be part of a solution" in Syria. Salehi said the opposition and government in Syria needed to be able to get around the negotiating table and that he had stressed to Khatib the need for the two sides to meet and organize presidential elections.
Russia: We will make that happen
Lavrov also welcomed Khatib's initiative, adding: "If we take into account the fact that the coalition was founded on a refusal to engage in a dialogue with the regime, it's a very important step."
"I reminded Khatib that after the creation of the coalition and the appointment of their leader, we immediately demonstrated our interest in maintaining regular contact," Lavrov said after the meeting on the sidelines of the Munich Security Conference. "We will make that happen," he added.
Lavrov had earlier Saturday held separate talks with U.S. Biden and U.N.-Arab League envoy Lakhdar Brahimi amid strong disagreement between Moscow and Washington about ways to end the Syria conflict.
Russia's top diplomat also said Moscow shared Washington's concern about the possible use of chemical weapons in Syria but considered the situation to be safe at this stage.
"We coordinate this issue (chemical weapons) with the Americans on a daily basis. We have reliable information that for now, the Syrian government has control of the chemical weapons, that the situation is safe," Lavrov said in his address to the conference.
"I think that this (the use of chemical weapons) is a 'red line' for everyone. We are categorically against the use of any arms," he said.
Lavrov also said that John Kerry, the new U.S. secretary of state, should be making his way to Russia soon.