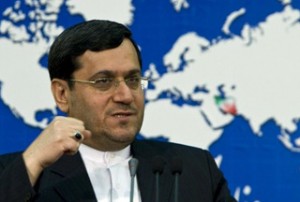 Iran's Foreign Ministry Spokesman Hassan Qashqavi says sanctions imposed against Iran over its nuclear program are as ineffective as a 'rusty sword'.
"The Iranian nation favors interaction and dialogue but will not surrender to pressure," Qashqavi said, commenting on the West's move to consider a September deadline for talks with Iran over its nuclear program.
"Sanction is just a rusty sword which has not any major effect," IRIB quoted Qashqavi as saying on Wednesday.
Qashqavi stressed that Iran is committed to its international responsibilities, but will not give up its nuclear rights.
Western powers have declared that they will give Iran nuclear talks until September and they would consider new sanctions against the country if Tehran does not halt its nuclear program through talks.