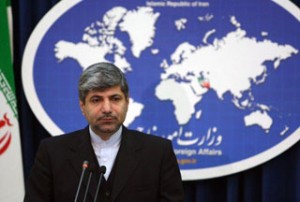 Iran's Foreign Ministry spokesman says the Saudi Embassy in Tehran has confirmed they are holding a woman they claim to be Osama Bin Laden's daughter.
Ramin Mehman-Parast told Press TV that the Saudi Embassy has officially requested travel documents for the alleged daughter of Bin Laden.
In a letter to the Iranian foreign ministry, the Saudi Embassy said that the woman entered Iran illegally through the eastern borders of the country without proper documentation.
Mehman-Parast said Iranian law requires the alleged Bin Laden family member to refer in person to the Foreign Citizens Department and apply for travel documents.
He also said the applicant should personally state her destination. He added that Saudi Embassy officials had failed to pursue the matter afterwards.
Meanwhile, an Iranian border authority said official data does not indicate the arrival of Bin Laden's daughter on Iranian soil. However, the possibility of illegal entry into the country has not been ruled out.
Media reports said on Thursday that Bin Laden's daughter is at the Saudi Embassy in Tehran, and that her mother has asked Iranian authorities to allow her to leave the country.