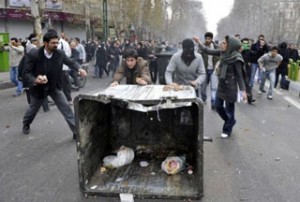 Iranian Intelligence Minister Heydar Moslehi says that "several foreign nationals" have been detained during the last week unrest.
"Some of the detainees are foreign nationals pursuing propaganda and psychological warfare," Moslehi told reporters on Monday, IRIB News reported. "They had entered Iran only two days before Ashura. Their cameras and equipment have been confiscated."
The minister did not mention the number or the nationalities of those arrested.
On Sunday, December 27, 2009, protesters took to the streets and used the mourning ceremony of Ashura to chant anti-government slogans. They also damaged public property and clashed with security forces. Seven people were killed in the unrest.
The deputy police chief, Ahmad-Reza Radan, said the force had not used violence against the protesters, adding that the deaths were being investigated by the authorities.
In response to the Ashura riots, millions of Iranians took to the streets on the following Wednesday, denouncing the sacrilege of Ashura and demanding that rioters be brought to justice.
Iran blames Western countries, who were quick to condemn what they called the violence in the unrest, of masterminding and supporting the riots that erupted after the presidential election in June 2009.
President Mahmoud Ahmadinejad has pointed the finger at the United States and Israel for staging the protests during the Ashura ceremonies.
Moslehi supported the Iranian President's stance and said US President Barack Obama and the leaders in Israel have revealed their agenda by supporting the Iranian opposition.
He added that investigations into the cases of the detained foreigners were being completed and that their cases would be handed to the judiciary within the next couple of days.
Ebrahim Raeesi, the first deputy of the judiciary, said last week that more than 500 protesters had been detained by authorities during the Ashura riots.
Tehran Prosecutor Abbas Jafari-Dolatabadi said Monday that protesters had acted against national security and would face the consequences, the Islamic Republic News Agency (IRNA) reported.
"According to the Islamic penal code, if it is proven to the judge that certain individuals had the intentions of confronting the Islamic government and the foundation of the establishment, the punishment can be as severe as the death penalty," Dolatabadi said.
He added that those who had taken to the streets on Ashura sought to undermine "the Islamic nature of the Islamic Republic," which, he said, is one of the most important religious aspects of the country.