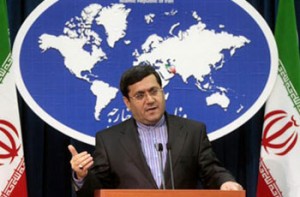 After Iran held wide-ranging talks with the West based on its latest package of proposals, Iranian Foreign Ministry Spokesman Hassan Qashqavi hails the meeting as a "national success".
"We achieved the outcome of Iran's resistance [to foreign pressure over its nuclear program] in Geneva talks," Qashqavi told reporters at his weekly press conference Monday.
Iranian representatives and diplomats from the five permanent members of the UN Security Council — Russia, China, France, Britain and the US – plus Germany (P5+1) held high-level negotiations in Geneva on October 1.
In what appears to be an effort to downplay Iran's achievements in its wide-ranging talks with P5+1 group which was held based on Iran's package of proposal- presented earlier to Western states-, Susan Rice said Washington and its veto-holding allies are already studying the sanction options if Iran does not prove the peaceful nature of its nuclear program.
The seven-and-a-half hour Geneva meeting had Iran's points of views on global issues and the country's mutual concerns with the West top on the agenda with six party members refusing to insist on Iran to halt its nuclear activities.
The sides also agreed to continue the talks through October.
"During the Geneva meeting, the sides held no talks on Iran's nuclear rights. The Islamic Republic has previously announced that it will never give up its nuclear rights based on regulations of the [Non-Proliferation Treaty] NPT."
The spokesman pointed to the recent visit by the IAEA chief to Tehran and said Mohamed ElBaradei was full of praise for Iran's cooperation over its nuclear program.
"ElBaradei praised Iran's cooperation," Qashqavi said.
In line with country's transparency policy over its nuclear activities, he head of the Atomic Energy Organization of Iran, Ali-Akbar Salehi invited ElBaradei to Tehran to set a date for the UN atomic watchdog to inspect the under-construction Fordo nuclear facility.
ElBaradei said in Tehran on Sunday that the agency's inspectors will visit Fordo site, some 160 Kilometers south of Tehran, on October 25.
"At present we are shifting from confrontation to cooperation and I am asking Iran to continue its transparency," he said.
"We are now on an appropriate path. The agency and the international community and Iran have started constructive talks".
Qashqavi touched upon a trilateral meeting between Iran, the IAEA and countries which are ready for talks set for October 19 to discuss the fuel of Tehran research reactor.
"There is one reactor in Tehran which produces nuclear isotopes for medical applications. Fuel of this reactor needs 20 percent enriched uranium," Qashqavi said.
"There is no covert issue about the reactor," he added.
The Tehran research reactor which produces radiomedicine for cancer patients runs on uranium that is some 20 percent U-235 – an enrichment level higher than what is currently produced at Iran's Natanz enrichment facility.
The activities in the research reactor, located in Tehran's northern Amirabad, is just a small part of Iran's nuclear program and the issue has nothing to do with Iran's wide-ranging talks with group P5+1 which are based on Iran's proposal package presented to Western powers.