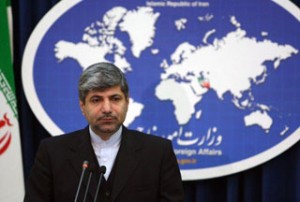 Months after Iran announced that it would review ties with the United Kingdom, the Iranian Foreign Ministry says no decision has been made to limit relations with Britain.
Speaking to Mehr News Agency, Iranian Foreign Ministry spokesman Ramin Mehman-Parast explained that relations between different countries are established and maintained based on national interests.
"Should a country come to the conclusion that its interests are not looked after or the bilateral relations are more likely to cause damage [than to bring benefits], in such circumstances officials review relations," Mehman-Parast said.
He said any decision that is to be made in this regard will be studied in all seriousness and with great accuracy.
"Up until now officials at the Foreign Ministry have not reached a decision to lower the level of relations with Britain," the Foreign Ministry spokesman said.