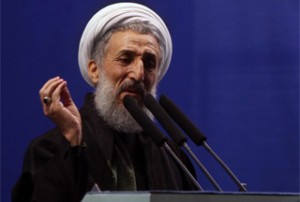 An Iranian cleric said Friday that the West will not succeed in preventing the country from developing its civilian nuclear program by raising a hue and cry in the international scene.
"The Iranian nation will never give up its nuclear right at any price," said Hojjatoleslam Kazem Seddiqi during the Friday prayers in Tehran. "They cannot prevent us from using nuclear energy for peaceful aims by lies and propaganda."
His remarks came after EU leaders warned that new sanctions against Tehran over its nuclear program may be on the table.
"The enemy will concede another defeat in this propaganda war," he said while dismissing claims that the country has violated its commitments.
"They want to pretend that Iran has violated the agreements. But Iran has carried out its nuclear activities based on international regulations."
Iran, a signatory to the nuclear Non-Proliferation Treaty (NPT) and a member of the International Atomic Energy Agency (IAEA), is running a nuclear program which it says is aimed at the civilian applications of the technology.
The West, however, accuses the country of seeking to develop nuclear weapons. The IAEA, which is continuously monitoring Iran's activities, says there are no evidence to prove West's allegations. It, however, has asked the country to increase its cooperation to remove remaining ambiguities.
The cleric said that the Iranian nation would never yield to pressure.
"We have no concern about conspiracies and pressures."