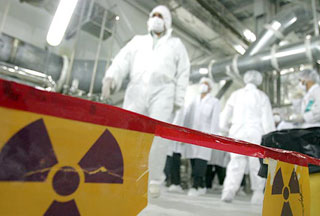 Iran moves to reject the rumors circulating in Western media about uncertainty in the Tehran government about the country's nuclear case by explaining the process through which Iranian nuclear and foreign policies are made.
Speaking at a Tuesday news conference, Iran's Foreign Ministry spokesman Ramin Mehmanparast said there are no differences of opinion among Iranian officials over a nuclear fuel proposal by the International Atomic Energy Agency (IAEA).
"Decision-making [in Iran] involves a process which does not lead to differences of opinion," Mehmanparast said.
As the president is the most public face of the Islamic Republic, there exists the impression on the global stage that the Iranian president holds ultimate authority on all issues of foreign policy.
This is while under Iran's Constitution, the final say in all matters of state lies with the Leader of the Islamic Revolution.
"Decision making for the nuclear case is a multi-layered process," Hassan Rowhani, who held the position of top nuclear negotiator in Iran from 2003 to 2005, explained earlier in February.
"After discussions on an expert level, the case is referred to a session comprising of the country's ministers and nuclear officials; and from there the case is reassigned to a meeting of top government officials," he clarified.
Addressing media judgments about recent Iranian nuclear developments, Iran's foreign ministry spokesman went on to reject claims that the Tehran government is opposed to shipping its low-enriched uranium abroad.
He was referring to a proposal put forward to the Islamic Republic by major world powers in Geneva, suggesting that Iran sends the bulk of its low-enriched uranium (LEU) stockpile out of the country in exchange for metal fuel rods for its Tehran medical research reactor.
Iranian Foreign Minister Manouchehr Mottaki had earlier explained Iran's stance on the proposal, saying that the country's enriched uranium supply will not be sent out of its borders in exchange for fuel rods fitted for the Tehran medical reactor.
Arguing that a guarantee for the fuel supply is the core concern for Tehran, the Iranian minister said that while the Islamic Republic's first option is to domestically enrich uranium to a level of 20 percent, its second option would be to buy the 20-percent-enriched uranium.
He added that the Tehran government would also consider an option to exchange, in a simultaneous swap, the agreed amount of its LEU with its needed fuel on its own territory.
The Iranian spokesman reiterated the minister's stance, saying, "No one has ever said in Iran that we are opposed to shipping out our uranium enriched to the level of 3.5 percent."
"What has been discussed is the method to ship out this material," explaining that Iran seeks a 100 percent guarantee for the supply of the fuel enriched to the level of 20.
"Unfortunately, the countries with which we are negotiating are not considered as trustworthy in the public opinion," Mehmanparast concluded.