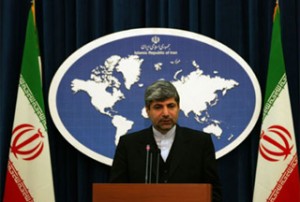 Foreign Ministry Spokesman Ramin Mehmanparast said Tuesday that Iran considers a nuclear fuel swap with any supplier as a valid option providing its conditions are met.
During his weekly press conference, Mehmanparast said that Iran's "priority is to obtain fuel" for a Tehran medical research reactor.
An IAEA-backed deal requires Tehran to send most of its low-enriched uranium abroad for further processing to be formed in special rods for the research reactor.
Iran says it would agree to a deal if guarantees are provided by the West that the fuel would be shipped to the country in a timely manner, but such demand has been shrugged off by the West.
Iran is currently enriching uranium to the level of less than 20 percent and the country's nuclear chief says the special plates for the fuel will be manufactured in the next few months.
Mehmanparast made it clear Tuesday that Iran was still open to a swap.
"If the [International Atomic Energy] Agency suggests a country in possession of the 20-percent enriched fuel, we are ready to buy [the fuel]. Besides, if there are countries ready for a swap which will fulfill our conditions, we are ready; otherwise, we will produce the fuel [ourselves]," he said.
On threats of new sanctions against Iran, Mehmanparast said that such punitive measures were legally baseless as Tehran's nuclear work is being fully monitored by the UN nuclear watchdog.
US-led calls for more sanctions against Iran have mainly received a chilly response by China, a veto-wielding member of the UNSC, which insists that diplomacy should be exercised regarding the nuclear standoff.