Iran
Iran says recent fires have nothing to do with cyber attacks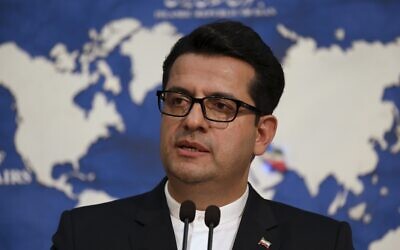 The Iranian Foreign Ministry spokesman has rejected claims that recent fires in Iran were caused by cyber attacks, but said the country reserves the right to deliver a "proper" response to any such operation in the future.
Speaking to reporters on Thursday, Abbas Mousavi said thousands of cyber attacks target Iran's infrastructure on a daily basis and most of them are repelled by the country's defense systems and cyber incident response teams.
A number of cyber assaults have targeted the country's infrastructure over the past months, which have even had "a wider dimension," said the official, adding that expert analysis later showed that the attacks had been sponsored or carried out by governments.
"Fortunately, the aggressors failed to achieve their main objectives in these attacks. Through technical and forensic electronic examinations, domestic experts have identified the governments supporting and leading the attacks, along with the groups that were commissioned to carry them out," Mousavi said.
The spokesman was also asked about whether the recent fires in Iran were caused by cyber attacks given US President Donald Trump's secret order that gave the Central Intelligence Agency (CIA) more powers to undertake such activities.
"No," he replied. "The recent fires have nothing to do with cyber attacks. Regarding Mr. Trump's order, it is quite natural to say that from now on, the US government will be the main suspect behind any cyber raid on Iran unless proven otherwise."
Citing former US officials with direct knowledge of the matter, Yahoo News reported earlier this month that the CIA has conducted a series of covert cyber operations against Iran and other targets after Trump issued the secret authorization in 2018.
The order allows the CIA to more easily authorize its own covert cyber attacks, rather than requiring the spy agency to get approval from the White House.
Elsewhere in his remarks, Mousavi emphasized that Iran will pursue Trump's "illegal and criminal order" at the international level, adding that "we reserve the right to legitimate defense as well as due and appropriate response to any aggression and damage [caused] to our country by cyber or non-cyber attacks."
He noted that the Islamic Republic may use cyber space or other warfare tools in its response to cyber attacks.
"Let me make it clear that claiming responsibility unofficially for any incident that happens in our country or empty bluffs (about them) by others shows that their desperation is at its peak" and that their hands are tied in dealing with Iran, he added.
Mousavi further said "limited fires in forests, refineries, etc., especially in summer, are neither strange nor specific to this year."
A chain of fires and gas explosions occurred in Iran has received much media coverage over the past weeks. Israeli and Western media outlets have been trying to attribute the incidents to Tel Aviv and its staunch ally Washington, claiming that those events could be a shift in strategy in dealing with Tehran after the so-called US "maximum pressure" campaign failed to make Iran surrender.
Iranian officials have rejected almost all the attributions and said the fires reported at different facilities across the country were not caused deliberately.
An investigation is, however, underway into an incident earlier this month that caused damage to a shed under construction at the Natanz nuclear complex in central in Iran.
Recently, a Twitter user studied the fires and blasts in Iran in two similar periods of time in 2019 and 2020, and concluded that there has been no rise in such incidents over the past months contrary to claims in the media.