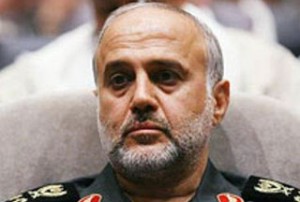 A senior military commander said Monday that regional countries would only lose legitimacy by signing strategic treaties with world powers.
The deputy chief of staff of Iran's armed forces, Major General Gholam-Ali Rashid, said hegemonic powers will never recognize others and accepting their partnership will only result in the loss of power for regional countries.
"You need to forcefully stand against superpowers," the general said in an apparent address directed at Middle Eastern countries. "They will only recognize you when they realize confrontation will be more costly than recognizing you."
The general, who was speaking at a meeting with Iran's ambassadors, said only a nation that is capable of building up strength and putting it to use will be able to fully defend its interests and implement its plans.
Regarding Iran's foreign policy that is based on avid diplomacy, General Rashid said Iran must rely on a deterrent power, based on a strong military power, to back its approach.
On Sunday, Leader of the Islamic Revolution Ayatollah Seyyed Ali Khamenei said Iran's approach towards global politics is an "anti-hegemony policy," which he said, is unique to the Islamic Republic.
"There are two sides in the hegemonic system; one is trying to control others and the other is controlled by the hegemonic power," the Leader said. "However, the Islamic Republic of Iran said from the beginning that it would not be dominant nor would it accept submission."