Africa
Iran seeks expansion of ties with African states: Foreign Minister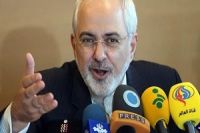 Iran's Foreign Minister Mohammad Javad Zarif says the current Iranian administration seeks expansion of diplomatic relations and cooperation with African states.
According to Press TV, speaking in a ceremony marking the 51st anniversary of the establishment of Organization of African Unity (OAU) in the Iranian capital, Tehran, on Sunday, Zarif commemorated prominent African leaders and praised their outstanding role in the establishment of justice and freedom in Africa.
The Iranian foreign minister also made a reference to the new forms of discrimination and apartheid in some regions of the world, calling for concerted efforts to tackle the issue.
Zarif strongly condemned extremism and terrorism, expressing sympathy with the victims of terrorist attacks carried out by the Takfiri militant group, Boko Haram.