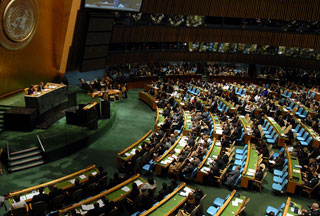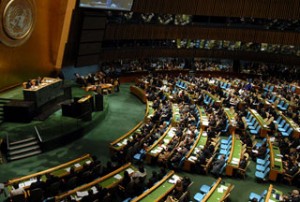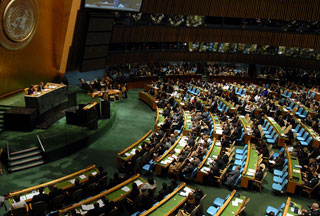 Amid calls for enlargement of the United Nations Security Council, Iran envisions a structural reform for the body that it says is outdated.
As the General Assembly began the third round of closed door talks on reforming the Security Council — the world body's 15-memebr power center–, Iran's Deputy UN Ambassador, Eshaq Ale-Habib, presented Tehran's view on the talks.
Ale-Habib condemned the current "discriminatory" structure of the council as "a remnant of World War II" and called it "incompatible" with the current world affairs.
He said the planned increase in the number of UN Security Council members must be implemented in a way that would represent Islamic countries and other developing states in the body.
Ale-Habib also criticized what he called the council's inappropriate interference in the affairs of other UN bodies, particularly those of the assembly and the nuclear watchdog, emphasizing the need to limit the council "to its own responsibilities."
He also attacked the veto right granted to certain members of the council and claimed it had proven ineffective in preventing discrimination and clear breaches of security around the globe.
In February, full-scale discussions began at the assembly on five key areas — membership categories, the issue of veto, regional representation, size of an enlarged Security Council, working methods of the council, and its relationship with the general assembly.
Despite the general agreement on enlarging the council, as part of the UN reform process, member states remain sharply divided over the details.
Pakistan's UN Ambassador, Abdullah Haroon, has voiced "serious concern" over a possible move to expand the number of both permanent and non-permanent members of the council.
"The proposed session is not on categories per se, but on a particular model of reform, which is all the more objectionable since it excludes all other proposals from the discussion," he said, objecting to the first session's particular agenda.
India, however, strongly favored the G4 proposal of expanding the body by including six new permanent seats and four additional non-permanent members.
"We remain convinced that this is the optimum expansion that meets both the tests of representativeness and manageability," India's UN Ambassador Hardeep Singh Puri, said in his address to the assembly.
"New permanent members would have the same rights and responsibilities as existing permanent members, including that of the veto. Nevertheless, recognizing the complexity of the issue, the G-4 proposal offered to defer its utilization until a review is undertaken," he added.
The African Union has made a proposal similar to that of the G-4, but suggested reserving veto powers for the new members.