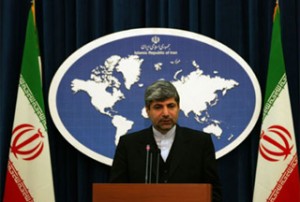 Iranian Foreign Ministry Spokesman Ramin Mehmanparast says Tehran seeks to establish and fortify unity among Palestinians against Israel.
Mehmanparast on Saturday dismissed remarks by acting Palestinian Authority Chief Mahmoud Abbas who claimed that Iran was impeding reconciliation talks between his Fatah group and the Hamas resistance movement.
"Iran doesn't want Hamas to sign the Cairo reconciliation document," Abbas said during a meeting in the Tunisian capital on Friday.
In response, Mehmanparast said that Iran sought unity and solidarity among Palestinians.
"In the first place, the position of the Islamic Republic of Iran is to create unity among Palestinians and in the second to seriously pursue the rights of the Palestinians to regain their land and return to their territory under a Palestinian government."
Iran believes that the only solution to the Palestinian issue is to hold a free referendum, in which the Palestinians can determine their own fate.
Fatah and Hamas are yet to reach an Egyptian-mediated unity deal to end divisions.
The proposal put forward by Cairo, which acts as a mediator in the reconciliation talks, aims to lay the groundwork for new presidential and legislative elections.