Iran
Iran seeks world with no atomic weapons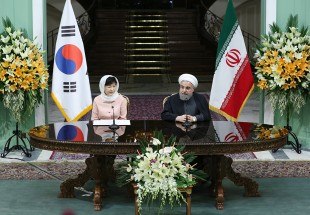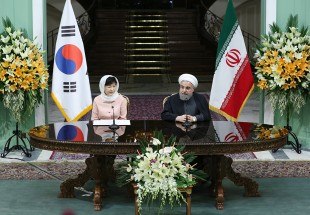 President Rouhani at a press conference after signing of Tehran-Seoul cooperation agreements underlined, "The two sides decided to boost trade cooperation 3 times to reach $18 billion."
Taqrib News Agency (TNA)- "Ties between the Islamic Republic of Iran and the Republic of South Korea, as two key countries in the Middle East and Eastern Asia, is very important and the two countries have enjoyed positive and constructive relations in the past 54 years," pointed out Rouhani.
Making his remarks at a press conference held in Tehran, President highlihgted,  "The two countries' ties during the past decades have familiarised the two nations and economic sectors with each other".
He also referred to the significant agreements made during President Park's visit and said, "One of these agreements were to turn the relations between the two countries strategic and deep-rooted, establishment of which requires South Korean companies to invest and set up joint economic activities with Iran, coupled with transfer of advanced technology to Iran".
We also discussed cooperation between the two countries' banks to facilitate the process of boosting economic cooperation.
On the myriad capacities for South Korean entrepreneurs' activities in Iran, Dr Rouhani also said, "Today 19 documents were signed by the officials of the two countries and many more are going to be signed between Iranian and South Korean private sectors".
In reference to developing cultural, scientific and technological relations between the two countries, Rouhani added, "Tourism and establishment of Tehran-Seoul direct flights and also South Korean sectors' investment in tourism-related infrastructures were also stressed".
"Iran wishes for peace and stability in the Korean peninsula and we are in principle against producing any kind of Weapons of Mass Destruction. We wish for a world without WMDs and nuclear weapons, especially in the Korean peninsula and the Middle East," said the President while speaking about security in the Korean peninsula, as well as the Middle East.
He added: "We also discussed ending of war in Yemen and starting of Yemeni-Yemeni negotiations to establish security in the country and we also discussed and exchanged views on the Iraqi government's fight against terrorism, as well as the future of Syria".
In this press conference, President Park Geun-hye said: "At a time when a new chapter in Iran's cooperation with the global community has started, this important and historic trip is being made and the two sides are willing to further develop ties and cooperation in various sectors".