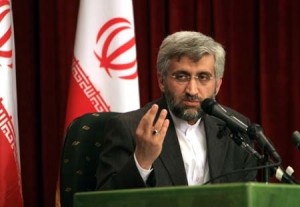 Iran has begun negotiations with the six major world powers in Geneva on a wide realm of global issues.
Iran's top nuclear negotiator Saeed Jalili is the representative of the Islamic Republic in the much-anticipated sit-down with the five permanent UN Security Council members — Britain, China, France, Russia, the United States — plus Germany.
"Talks have started," EU spokeswoman Christine Gallach told journalists.
The Geneva meeting is based on Iran's package of proposals released earlier this month. The first round of talks started on Thursday morning and the second round is scheduled for the afternoon.
EU Foreign Policy Chief Javier Solana, who has represented the West in nuclear talks with Iran since 2003, is also present in the meeting.
Jalili said earlier that Iran went to the meeting with a 'positive' approach.
Officials in Tehran however asserted that although open to talks, Iran 'will not compromise' on its nuclear rights.
Iranian President Mahmoud Ahmadinejad said on Wednesday that the meeting was an 'exceptional opportunity' for the Western countries to 'rectify' their policies.
He added that Iran prefers 'friendship and interaction' in the talks, maintaining that Tehran was ready to hold long-term discussions with the P5+1 'should talks bear fruits.'
Under the allegation that Iran is pursuing a nuclear weapons program, Western countries are mounting pressure on the country to give up its nuclear activities.
US Secretary of State Hillary Clinton on Wednesday sent a warning to Iran, saying that 'greater isolation' could await Iran should it fail to comply with what she described as 'its international obligations' over its nuclear work.
Iran says it has even gone beyond its commitments and has demonstrated 'a great deal of clarity' in its nuclear work.
French Foreign Minister Bernard Kouchner expressed hope on Thursday that the talks will be 'crowned with success' and that talk of further sanctions would not be needed.
Meanwhile, al-Alam TV channel quoted sources close to the Geneva talks as saying that Britain and France were at work to divert the negotiations from a 'constructive, natural path' toward their own intentions.
Solana had earlier promised that the talks would center on the proposals package.
Iran is already under three rounds of UN Security Council resolutions over its uranium enrichment activities. Iran insists on the peaceful nature of its nuclear program and refuses to freeze the program as demanded by the major nuclear powers.