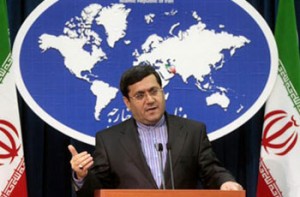 Tehran has condemned the position French authorities have taken towards Ayatollah Khamenei's objection to the destructive role Israel plays in the region.
"These comments run contrary to the realities of Palestine, the world and the region. They are a reflection of France's biased, uncaring, and hateful support for the occupying Israeli regime and its crimes," Iranian Foreign Ministry spokesman Hassan Qashqavi said on Tuesday.
"This extremist approach is in clear contrast with France's long-established stance on the Palestinian issue and its realities… in practice this approach is in contrast with the outlook of the considerate French people," he added.
Qashqavi also said that Tel Aviv was humiliating Paris and proving its Middle East strategy ineffective by ignoring the French government's apparent efforts to stop illegal settlement building on Palestinian land.
The spokesman added that French officials were accusing Iranian authorities of intolerance while rights of various minority and migrants were violated in their own country.
"The French government's lack of attention to civil rights and unions has created numerous problems for the country. These problems suddenly turn into protests and escalate into riots," he said.
Qashqavi's comments came after a foreign ministry spokeswoman attacked a recent speech by the Leader of the Islamic Revolution Ayatollah Seyyed Ali Khamenei and called his words 'profoundly shocking'.
"These declarations are profoundly shocking and we firmly condemn them… [they] reflect the intolerance of the current leaders of Iran," Christine Fages told reporters.
"They unfortunately can be added to a long list of hateful declarations by (Iranian President) Mahmoud Ahmadinejad… It is a sad day for the Iranian people, who we know do not share this attitude," she added.
Delivering a sermon on Sunday, the Muslim Eid al-Fitr holiday, Ayatollah Khamenei had described Friday's al-Qods Day rallies as 'a loud and clear shout against the cancer of Zionism'.
The Leader warned of the 'conspiracies of the arrogant powers' to weaken al-Qods Day among Muslims, adding that the Qods day rallies proved once again that the Islamic Umma (community) does not accept tyranny.
Ayatollah Khamenei's remarks came as a UN fact-finding mission called for Israel's prosecution at the International Criminal Court over 'war crimes and crimes against humanity' committed during its 2008-2009 operation in the Gaza Strip.
The UN team, which was led by the former South African Jewish Supreme Court Judge Richard Goldstone, said that International Criminal Court must proceed with the prosecution, unless Tel Aviv opens fully independent probes into its war crimes.