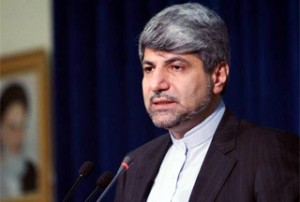 As Tehran hosts an international denuclearization conference, Iranian Foreign Ministry spokesman slams the West for pursuing dual policies on the use of nuclear energy.
"The world is currently witnessing discrimination. On one hand, using nuclear energy for peaceful purposes is limited while at the same time, countries which possess nuclear weapons do not allow nations to access nuclear energy," Ramin Mehmanparast told Press TV in an exclusive interview on the sidelines of the international conference on nuclear disarmament on Saturday.
"These countries allow themselves to use nuclear weapons and announce that they will not hesitate to use these arms against other nations," he added.
"This can lead to a collective effort. The international community would like to set in motion a real move to enjoy nuclear technology for peaceful purposes and for national development," he said.
He stressed the importance of holding of the denuclearization conference in Tehran, saying, "We are witnessing big threats by possessors of nuclear weapons. They are boldly threatening to use nukes."
"Any use of nuclear weapons to harm humanity is condemned," Mehmanparast reiterated.
He noted that the conference seeks to work out a real solution to achieve its goal on establishing a world free from nuclear weapons in line with the guidelines of Leader of the Islamic Revolution Ayatollah Seyyed Ali Khamenei and lectures delivered by different representatives attending the forum.
The spokesman said the conference's goals was to build trust on Iran's nuclear program and added that inspectors of the International Atomic Energy Agency (IAEA) have conducted numerous inspections of Tehran's nuclear facilities and have repeatedly announced that there is no evidence showing any deviation in Iran's nuclear program.
He dismissed accusations by the US and its allies against Iran's nuclear program, saying, "We believe that the US and some Western countries are in no position to deprive other nations of nuclear energy."
"How is it possible that a country is beating the drum for nuclear non-proliferation while it has used nuclear weapons itself and killed hundreds of thousands of people in Japan?" he asked.
"It has stockpiled hundreds of thousands of nuclear weapons and is threatening to use nukes against other nations," Mehmanparast said. "The international community is concerned mostly about certain Western states including the US and the Zionist regime [of Israel]."
He said that the US and certain Western countries intend to "pretend that whatever they say is what the international community wants but this is their big lie."
Mehmanparast criticized super powers for failing to implement the Nuclear Non-Proliferation Treaty (NPT) properly over the past 40 years since its foundation.
"The number of nuclear arsenals has been ironically increased rather than decreased," he said.
Referring to the lack of guarantees that nuclear weapons will be reduced, he asked, "Will [super powers] allow independent nations to form a block and inspect whether or not these powers have really decreased their weapons? So there is no guarantee and we cannot trust their words."
"Over the past 40 years, they have been claiming that they have worked towards nuclear non-proliferation, but we can see their arsenals have been increased and they are bold enough to threaten us with using nuclear weapons."
The Iranian spokesman noted that the NPT Review Conference provides a good opportunity to prevent discriminatory issues and called on the IAEA member states to make some changes to exercise their rights.
"There should be some changes so that the political will of certain countries will not be able to prevent the main aims of the NPT. We should not allow the IAEA to deviate from its legal framework and work towards the interests of certain countries," he said.
"On the other hand, there should be a mechanism so that nuclear weapon states should be held accountable and they should take practical steps to dismantle their arsenals."