Iran
Afghanistan
Asia-Pacific
Middle East
Iran slams Panjshir 'fratricide', urges inclusive Afghan government
Iran's permanent representative to the UN has censured the recent attack against Afghanistan's Panjshir Valley as an "unjustifiable and condemnable fratricide" that runs counter to the position of the international community.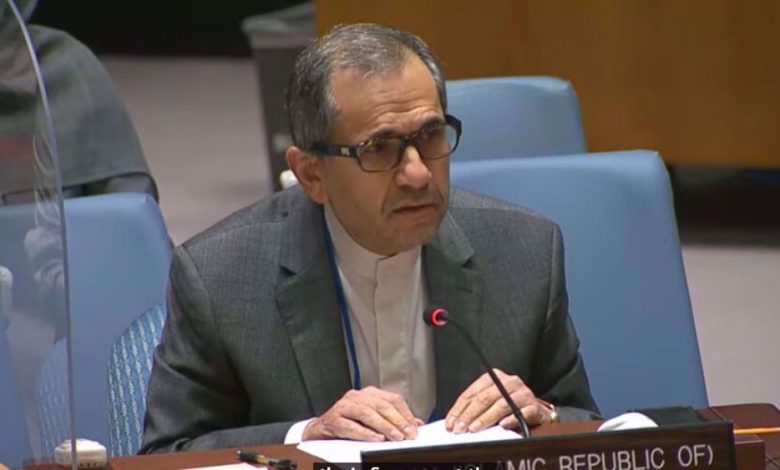 "The recent unjustifiable attack and condemnable fratricide in Panjshir is in contradiction with the united position of the international community, according to which any government that comes to power in Afghanistan by force will not be recognized," Majid Takht-Ravanchi said on Thursday during a United Nations Security Council meeting to discuss the ongoing situation in Afghanistan.
Takht-Ravanchi said the path to stability, lasting peace and sustainable development in Afghanistan passes through intra-Afghan negotiations with the active participation of representatives of all ethnic, linguistic and religious groups, with the aim of finding a fair and lasting solution to the crisis and achieving national reconciliation.
He underscored the need for the formation of an all-inclusive government through a free and fair election, via the participation of women both as voters and as candidates.
The new government, the Iranian envoy continued, must be committed to the fight against terrorism and organized crimes, as well as the human rights of all Afghans, including minorities, based on the true and authentic teachings and principles of Islam.
The Taliban are now poised to run Afghanistan again two decades after they were removed from power by American forces following the September 11, 2001 attacks on the United States.
The group is widely using arms and equipment left by US troops in their offensives. There are also reports of Pakistani drones, helicopters and troops used in attacks on anti-Taliban forces holed up in Panjshir.
Since the Taliban takeover of Kabul in mid-August, Iran has been calling for the formation of an all-inclusive government by Afghan groups. Tehran has also warned against foreign interference in Afghanistan's affairs, saying Washington's humiliating defeat in the country proved once again that the Afghan people strongly reject any form of foreign interference.
Takht-Ravanchi said Iran expects the Taliban to fulfill all of their commitments, stressing that in such a case, the Afghan government would be supported by the Islamic Republic of Iran.
Like Afghanistan's other neighbors, Iran is deeply concerned about insecurity and instability in the country, as well as the threat posed by terrorist networks and organized criminals involved in drug and human trafficking, he said.
Using Afghan soil to attack others
The ambassador said Iran strongly believes that Afghanistan's territory must not be used to attack other countries, or to shelter, finance and train terrorists.
Terrorist groups such as Daesh (ISIS), which pose a major threat to Afghanistan and the region, should not be allowed to maintain a foothold on Afghanistan's territory, he said.
According to Takht-Ravanchi, the current situation in Afghanistan is first and foremost the result of the US and other countries' intervention and their irresponsible withdrawal from the country.
When they entered Afghanistan, he said, they caused trouble for the Afghans, and when they withdrew, they left a tragedy for the Afghans.
The senior Iranian diplomat explained that nearly 165,000 Afghans have been killed between 2001 and 2021, including 33,000 children, calling for the punishment of US-led forces over war crimes committed in Afghanistan.
'Iran ready to host next round of intra-Afghan talks'
Elsewhere in his remarks, Takht-Ravanchi said Iran, which hosted talks between the Afghan government and the Taliban in July, is ready to host the next round of such talks.
The Islamic Republic has always made every effort to help Afghan parties settle their differences peacefully, he said.
The ambassador pointed out that the Islamic Republic has hosted millions of Afghan refugees in more than four decades.
Noting that more refugees have entered Iran's soil since the beginning of the latest turmoil in Afghanistan, he called on the international community to fulfill its duty and do more to provide help for the Afghan refugees.
The people of Afghanistan should also be helped to achieve lasting peace, stability and prosperity, he said, adding that the full realization of this goal must be supported and facilitated, especially by neighboring countries.
Neighbors call for 'Afghan-led, Afghan-owned' peace process
On Thursday, foreign ministers of Afghanistan's neighboring countries held talks to discuss the rapidly evolving situation in the country.
The ministers from Pakistan, China, Iran, Tajikistan, Turkmenistan and Uzbekistan issued a joint statement after their meeting, held in an atmosphere of mutual understanding and constructive approach.
They noted that with the withdrawal of US-led foreign troops from Afghanistan, the people of Afghanistan have to determine their own future, which should allow, in practice, to realize an "Afghan-led, Afghan-owned" process for national peace and reconciliation, according to the Chinese Foreign Ministry.
The developments in Afghanistan prove yet again that there is no military solution to this issue, they said, underlining the importance of an inclusive political structure in Afghanistan with the participation of all ethnic groups.
The foreign ministers also expressed support for the sovereignty, independence and territorial integrity of Afghanistan, and non-interference in its internal affairs, noting that the future of Afghanistan should be determined by its people, in accordance with the provisions of the UN Charter.
"Terrorist organizations, such as ISIS, al-Qaeda, ETIM, TTP, BLA, Jondollah and others should not be allowed to maintain a foothold on Afghanistan's territory," they asserted.
They also agreed to continue their meetings on a rotating basis, to hold their next meeting in Tehran, to set up a mechanism of regular consultations of special envoys for Afghanistan affairs, and to hold regular meetings of representatives of embassies in Kabul to discuss and coordinate their joint efforts.