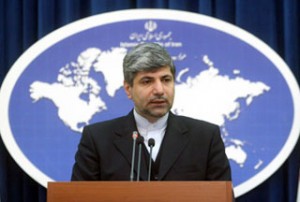 Iranian Foreign Ministry Spokesman Ramin Mehmanparast has again dismissed UAE's claim to three Iranian Islands in the Persian Gulf as baseless.
Mehmanparast fiercely rejected United Arab Emirate's repeated claim and reiterated that the three islands of Abu Mousa, the Greater Tunb and the Lesser Tunb were inseparable parts of the Iranian territory based on historical evidence.
The issue was raised when the six permanent members of the [Persian] Gulf Cooperation Council (GCC) on Tuesday expressed support for UAE's claim of sovereignty over the three islands, calling on Iran to settle the matter by direct talks or through the International Court of Justice.
The GCC, consisting of autocratic Arab sheikhdoms of Saudi Arabia, Oman, Bahrain, UAE, Qatar and Kuwait, was established in the 1980's to support the former Iraqi dictator Saddam Hussein's war effort against the newly established Islamic Republic in Iran.
"The three islands of the Greater and Lesser Tunbs and Abu Musa have always belonged and will belong to Iran and raising unfounded claims would not have the slightest impact on Iran's sovereignty," the Iranian official insisted.
Mehmanparast repeated that any possible misunderstanding could be best removed through bilateral talks.
The three Persian Gulf islands in question have historically been part of Iran, according to the Iranian official, proof of which can be found and corroborated independently of each other in countless historical, legal and geographical documents in Tehran and other parts of the world.
The islands temporarily fell under British control in the 1800s but were returned to Iran on November 30, 1971 through a legal procedure that preceded the establishment of the United Arab Emirates as a sovereign state.