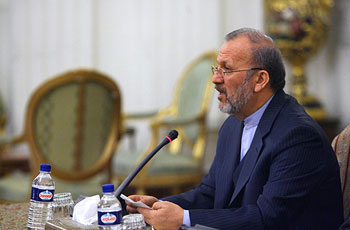 Iran's Foreign Minister Manouchehr Mottaki says Washington's decision to dispatch 30,000 more troops to Afghanistan will not stabilize the war-torn country.
"The real solution for Afghanistan is to respect its sovereignty and let the Afghan people determine their own political fate," the Iranian official said late Wednesday.
"Increasing forces in Afghanistan will not resolve the crisis in that country," he added.
The world welcomed US President Barack Obama's slogan of change when he took office in January, but the world has yet to see any of the changes that he promised, the Iranian foreign minister said.
On Tuesday, Obama announced that the US would increase the number of American soldiers in Afghanistan by some 40 percent, a move that would see Washington deploy another 30,000 soldiers.
The US president warned that the cost of the surge would exceed $30 billion this year alone.
"Going forward, I am committed to addressing these costs openly and honestly. Our new approach in Afghanistan is likely to cost us roughly $30 billion for the military this year, and I will work closely with Congress to address these costs as we work to bring down our deficit," Obama said.
Insurgency has skyrocketed in southern and eastern Afghanistan, where the Taliban has stepped up attacks against the US and NATO occupation troops utilizing roadside bombs and ambushes.
More than 400 Western troops have lost their lives in the fighting in 2009, making it the deadliest year of the war since the beginning of the US invasion of Afghanistan in 2001.
Since the start of the war, the US has made no substantial effort to detain top al-Qaeda and Taliban leaders such as Osama Bin Laden and Mullah Mohammed Omar, who are now believed to reside in Pakistan.
Afghan civilian casualties in the first nine months of the year have also risen to 1,500 with many killed in US air raids, resulting in greater animosity toward the occupiers.