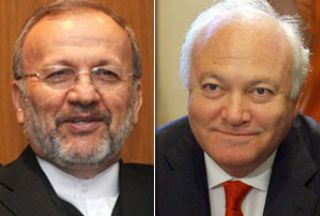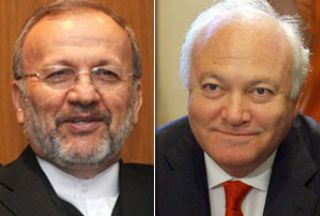 Iran and Spain have announced their readiness to address the Middle East's major issues, including Israel's prolonged siege on the Gaza Strip.
Visiting Iranian Foreign Minister Manouchehr Mottaki discussed the Middle East peace process and the Gaza siege in his meeting with his Spanish counterpart Miguel Angel Moratinos in Madrid late Monday.
"The Iranian and Spanish foreign ministers highlighted regional issues, particularly the Middle East and the necessity of breaking the Gaza siege, urging the employment of Iran and the European Union's potential in this respect," IRNA quoted Iranian Foreign Ministry Spokesman Ramin Mehmanparast as saying on Tuesday.
In the meeting, the two countries' senior officials also talked about Iran's peaceful nuclear program, urging the resolution of the dispute through diplomatic channels.
Meanwhile, the Spanish minister urged Iran to return to nuclear talks and "dispel the doubts generated over the aims of the Iranian nuclear program."
Moratinos further expressed Spain's willingness to contribute to the advancement of relations between the two countries.
Mottaki, at the head of a high-ranking delegation, arrived in Spain Monday night for a two-day visit aimed at discussing subjects of mutual interests, current regional and international developments, Iran's nuclear program and the Tehran Declaration.
The foreign ministers of Iran, Turkey, and Brazil signed a declaration in Tehran on May 17, according to which the Islamic Republic would ship 1200 kilograms of its low-enriched uranium to Turkey to be exchanged for 120 kilograms of 20 percent enriched nuclear fuel rods to power the Tehran research reactor, which produces radioisotopes for cancer treatment.