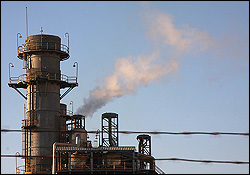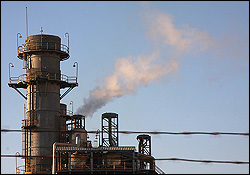 Iran has started drilling the first exploratory well at the Afshar-1 gas field, which is shared with Turkmenistan.
The Iranian section of the gas field measures around 9 square kilometers in area, equaling half the total area, ISNA reported on Sunday.
Seismic studies suggest the field contains considerable amounts of natural gas.
Iran has launched 17 development projects at oilfields which are shared with its neighbors, with the aim of boosting production at the sites to 800,000 barrels per day over the course of two years.
Iran shares 18 oilfields, four gas fields, and 6 associated oil and gas fields with neighboring countries.
The Islamic Republic has attached priority to boosting gas production capacity at its joint oil and gas fields shared with Qatar and Saudi Arabia.
Iran's daily gas production is about 600 million cubic meters, and this is projected to increase to 1.2 billion cubic meters in the future. According to the National Iranian Gas Company, the country's oil and natural gas reserves account for 10 percent and 16 percent of total world reserves, respectively.
Iran ranks fourth worldwide with 155 billion barrels of recoverable oil reserves, after Venezuela, Saudi Arabia, and Canada.
With 34 trillion cubic meters of natural gas reserves, Iran has the world's second-largest natural gas reserves after Russia.