Iran
Middle East
Iran strongly opposes foreign intervention in ME, PG: Rouhani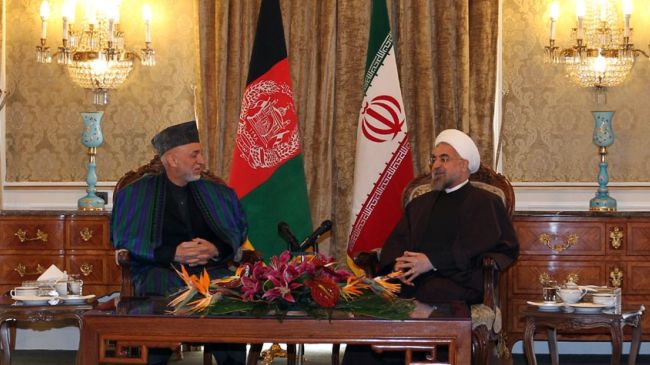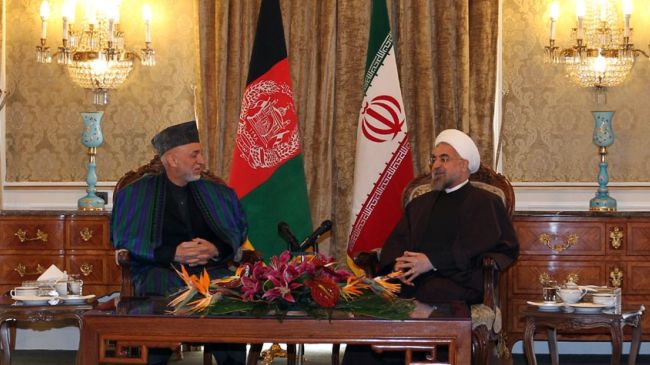 Iran President Hassan Rouhani has expressed the Islamic Republic's strong opposition to any foreign intervention in the region, particularly in Afghanistan.
"The Islamic Republic of Iran opposes the presence of any foreign country in the…Middle East and the Persian Gulf," Rouhani said in a meeting with visiting Afghan President Hamid Karzai in Tehran on Sunday.
"We are concerned about tensions caused as a result of the presence of foreign powers in the region and believe that all foreign forces should leave the region," the Iranian president stated, emphasizing that Afghans must be left in charge of establishing security in their country.
The United States, which had promised to withdraw all combat forces from Afghanistan by 2014, seeks to have a long-term military presence in Afghanistan by signing the Bilateral Security Agreement (BSA) with Afghan officials.
The deal has already been approved by the Grand Council of Afghanistan, Loya Jirga, which consists of Afghan tribal elders and other leaders.
"The Administration of Hope and Wisdom places emphasis on developing relations with all of [Iran's] neighboring countries, particularly the Muslim state of Afghanistan and believes that the welfare and security of the Afghan people will lead to the expansion of regional cooperation," the Iranian president pointed out.
The Afghan president, for his part, praised the recent deal reached between Iran and the six major world powers on the Islamic Republic's nuclear energy program.
On November 24, Iran and the five permanent members of the UN Security Council – Russia, China, France, Britain and the US — plus Germany clinched an interim deal over the Islamic Republic's nuclear energy program in the Swiss city of Geneva.
The six-month accord will lay the groundwork for a comprehensive resolution of the West's decade-old nuclear dispute with Tehran.
Pointing to the environmental issues and border interaction between Iran and Afghanistan, Karzai stated that his country remains committed to all bilateral agreements and would soon start negotiations with Iran on a comprehensive pact to strengthen cooperation.
At the end of the meeting, Iran and Afghanistan issued a joint statement assigning the two countries' foreign ministers to draw up a comprehensive pact for cooperation which would guarantee long-term mutual interests of the two countries.
The Afghan president arrived in Tehran on Sunday at the head of a high-ranking delegation for a day-long visit to discuss key bilateral and regional issues with senior Iranian officials.
Karzai also visited Iran in August to participate in Rouhani's inauguration ceremony.