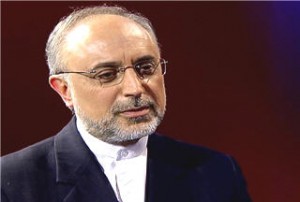 Iran only seeks "objective guarantees" in a nuclear fuel swap deal but will study "other proposals" to discuss them in future meetings, says a top Iranian nuclear official.
"On the nuclear fuel swap deal, our stance is based on receiving 20-percent enriched uranium in return for the 3.5-percent enriched uranium," Ali Akbar Salehi, the head of the Atomic Energy Organization of Iran (AEOI), told reporters on Sunday.
"They had set other conditions… but our condition is [that they offer] objective guarantees," he added.
Under a proposed nuclear fuel swap deal, Iran would send most of its low-enriched uranium abroad for further processing and conversion into fuel rods for the Tehran research reactor, which produces radiomedicine for cancer patients.
Negotiations on the deal came to a standstill after Western countries failed to provide Iran with guarantees that the fuel would be delivered in a timely manner.
Brazil and Turkey have recently stepped up efforts to broker an agreement between Iran and France, Russia and the US.
Salehi said, "Different countries have made proposals, which we are studying and discuss in talks with these countries." He did not give any details on the new proposals.
Turkish Prime Minister Recep Tayyip Erdogan and Brazilian President Luiz Inacio Lula da Silva will both visit Tehran in mid-May to hold talks on the issue on the sidelines of a summit of the Group of 15 (G15).
Both Brasilia and Ankara have repeatedly voiced their opposition to a new round of US-proposed sanctions against Tehran.