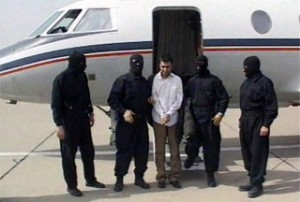 The Iranian Foreign Ministry has summoned Kyrgyzstan's ambassador to Tehran to protest Bishkek's denial that terrorist leader Abdolmalek Rigi was arrested on one of its airliners on February 23.
Foreign Ministry Spokesman Ramin Mehmanparast said on Monday that there is evidence proving that Rigi was arrested on a Kyrgyz plane.
He also censured the use of regional countries' territory as a base to threaten Iran's national security.
Mehmanparast urged Bishkek to respect international law in the campaign against terrorism.
The Iranian Foreign Ministry summoned the Kyrgyz ambassador shortly after Kyrgyzstan said no foreign nationals had been arrested by Iran on a Kyrgyz airliner.
"Information… published in some media outlets about the detention of foreign nationals on board the Kyrgyzstan Airlines aircraft does not correspond with reality," the Kyrgyz Foreign Ministry said in a statement issued on Monday.
However, shortly after the incident, Kyrgyz aviation authorities confirmed that two people were detained after Iranian fighter jets intercepted a Kyrgyz airliner and forced it to land at Bandar Abbas airport on February 23.
The Kyrgyz ambassador also condemned the terrorist attacks carried out by Rigi's group in Iran and vowed to convey Iran's concerns to Kyrgyz officials.
Abdulmalek Rigi, the ringleader of the Jundallah terrorist group, said afterwards that he was traveling to Bishkek to meet a high-ranking US official at a nearby military base.
He stated that they were going to discuss new terrorist attacks on Iranian territory.
Meanwhile, informed sources have told Press TV that several Kyrgyz security guards were protecting Rigi and his deputy inside the plane.
Rigi, who says he was supported by foreign intelligence agencies in his efforts to undermine Iran's national security, is responsible for many terrorist attacks against Iranian officials and civilians.
His latest terrorist act claimed the lives of 35 people, including senior military commanders, at a unity gathering between Sunni and Shia tribal leaders in the Pishin region in southeastern Iran near the border with Pakistan on October 18, 2009.
In March 2005, he ordered the Tassouki massacre, in which 28 people, including 21 civilians, were killed.
In the incident, which took place on the Zabol-Zahedan road in the Tassouki region of Sistan-Baluchestan province, Jundallah terrorists wearing Iranian police uniforms stopped vehicles, forced the passengers to get out, and then opened fire on them.